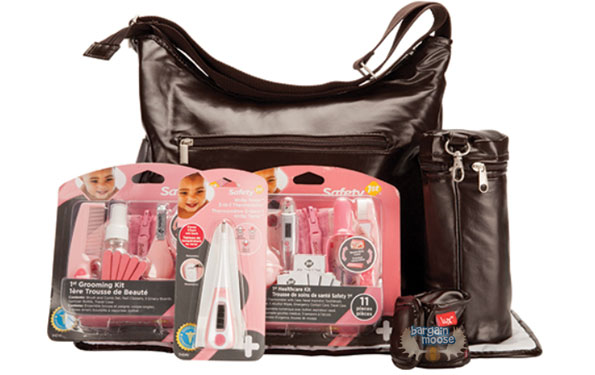 Shopping for a baby? Best Buy is offering the Safety 1st Bringing Home Baby Bundle for $61 off! For the next couple of days, you can pay just $29.99 for it instead of its regular price of $91!
I am extremely jealous of this deal because just a couple of weeks ago, I bought the Safety 1st deluxe healthcare & grooming kit from Toys R Us for $29.99. It's the same price but doesn't come with nearly as many things at the bringing home baby bundle. In fact, although the Toys R Us only comes with the healthcare and grooming kits, Best Buy's deals comes with all of the following:
A diaper bag
Health care and grooming kits
3-in-1 digital thermother
Infant to toddler oral care set
Having only recently discovered that a baby's gums needs to be wiped in order to get them used to the sensation of having something in their mouths and to stimulate the gums, I also particularly like that the oral care set comes with a gum stimulator. The diaper bag also looks more like a purse and comes with two additional pouches to keep things organized. A changing mat is included as well.
This bundle would definitely also make for a great baby shower gift for any mommy expecting a little girl. Plus, no one will have to know that you got an amazing deal on it! ;) Be sure to also check out The Baby Event going on at Best Buy right now. Until July 10 2014, you can save on plenty of baby essentials like clothes, nursery items, strollers, toy, maternity wear and much more.
This bundle will also be shipped absolutely free as Best Buy offers free shipping on all orders over $20. You can also get this same bundle at Future Shop for the same price if you prefer shopping there instead.
(Expiry: 10th July 2014)