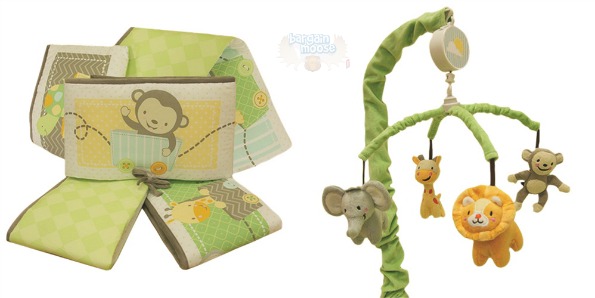 Best Buy Canada is offering 50% off Baby's First bumper sets and mobiles. Orders of $25 or more will ship to your home for free.
Mobiles
First off, let us look at some precious mobiles for your baby. The Baby's First Musical Mobile - Safari was $39.99 and is now on sale for $19.99. This adorable mobile will fit on most cribs and cradles. The safari mobile plays a Brahms' lullaby while your little one watches the cute little safari animals. A lion, elephant, giraffe, and a monkey swing from the mobile.
Secondly, the Baby's First Musical Mobile - Owl Swing is on sale from $49.99 down to $24.99. I love the colour scheme of blue and yellow on this mobile and think it is my favourite of the two. The mobile plays a Brahm lullaby and your wee one will enjoy the owl and birds above.
Bumper Sets
Bumper sets come in matching colours and patterns to the above two mobiles! The Baby's First Crib Bumper Set - Safari is an excellent match for the mobile above and will really tie your baby's room together. Originally $39.99, the safari bumper set is on sale for $19.99.
As you might expect, there is also a sale bumper set to match the gorgeous owls. The Baby's First Crib Bumper Set - Owl Swing was $59.99 and is now on sale for $29.99. The pastel yellow and blue colour is carried throughout the bumpers.
You will probably want to buy a set. The safari set is the least expensive - coming to $39.98 for the set. However, you want a set that you will like looking at for a couple years, so the owl set might match your tastes for. That set, when put together, costs just a bit more at $54.98.
This is part of a larger sale on Baby's First items. There are many items on sale but these were the best deals. If you are looking for other matching pieces, be sure to check out the rest of the sale. Purchase sheets, bedding, crib sets, and more.
I tried price comparing these items with other retailers. I found a pink version of the Safari at Sears Canada for $39.99. I found bumper sets by Baby's First for $34.97 at Walmart Canada. Overall, I am quite pleased with this deal and hope our Moosers love it.
Thanks to FeliciaC for posting this deal on our forum.
(Expiry: 19th March 2015)