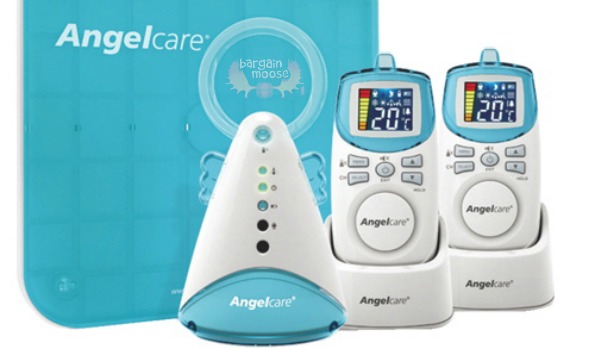 If you are having a baby or need a new baby monitor, I highly recommend the Angel Care monitor system, which is now 25% off at Best Buy Canada. I priced compared the systems and it was the cheapest at Best Buy, on sale.
As a somewhat nervous Mom (aren't we all?), one of the biggest things I worried about with my newborns was that they'd stop breathing in the middle of the night. How I circumvented that worry and was able to sleep as best as I could as a new mother, was to get the Angel Care monitor. This monitor detects if a child is breathing and sets off an alarm if they have not moved in 20 seconds. In case you were wondering, my monitor did go off with my oldest, which we have now found out that he had some sleep apnea. I don't know if that was the reason, because after a few seconds it would reset and he would be breathing. Either way, I was still grateful to have it.
I just the had the simplest one, which was still great quality and had a long range between the monitor and the audio device. Get it for $44.99, regularly $65.99.
The deluxe monitor has two parent units, which is super handy so Dad can't make the excuse "he didn't hear the baby". On top of that it has the nursery temperature, voice activated or continuous transmission, colour LCD to display information, a nightlight, low battery and out of range detection lights. What's even better is that it has an extended range of up to 820 feet. Get it for only $126.99, regularly $169.99.
And the most deluxe is the digital video, movement and sound monitor. It detects movement and also has a 2.75-inch digital colour LCD touchscreen parent unit, so you can see everything your baby is doing in real time after you hook up the adjustable infrared nursery camera. It even has two-way communication, which I think would have been awesome so you don't have to go in; you can tell that baby to get to sleep from another room! The 2.4GHz digital transmission reduces interference between the base and the parent units. And, if you are as forgetful as me (and you will be with no sleep), there is a parent unit locator. Just don't ask me how it got into the fridge. Get it for only $222.99, regularly $297.99.
Shipping is free on orders over $20.
(Expiry: 25th April 2013)