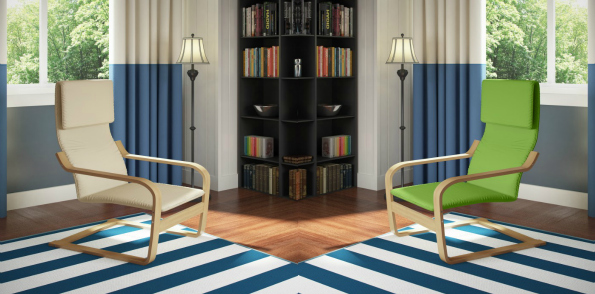 Best Buy Canada has a fantastic deal on a couple Aquios Contemporary Arm Chairs. Originally $107.99, the apple green and the warm white chairs are now on sale for $44.99 each. Receive free shipping on all orders of $25 or more, so these chairs will be shipped to your home for free.
Of course, I price compared these chairs with other online retailers. They currently cost $99 @ Walmart Canada, $109 @ Sears Canada, and $148.50 @ Staples Canada. As you can see, this is a pretty hot little deal when Best Buy's price is less than half the price of Walmart's price for the same chairs.
These are really contemporary chairs for your home or deck. The arm chair is composed of a flexible bentwood frame and a fabric seat. This flexible birch plywood and metal frame makes the chair durable. The chair has a space-saving design that is perfect for small homes and apartments. The chair is comfortable and low profile - it does not dominate a room. One reviewer said:
A very nice chair but a little difficult to assemble. I had to clean the threads on a few of the bolts and the material was a bit difficult to stretch onto the frame. It took some time but the assembly is finished...I purchased two chairs and they suit our decor perfectly in our spare room.
I have assembled many a piece of furniture and I have rarely found a set that goes together without a little extra work than you expect. However, I must agree that these chairs are pretty nice. Another customer said they very comfortable and quite a reasonable price for what you are buying.
Now, this chair is available in two other colours - warm brown and midnight black - but they are more expensive. The warm brown is $59.99 and the midnight black is $69.99. Sure, that is still less than other retailers but I would just pick up the warm white chairs for $44.99 if you need a neutral colour.
(Expiry: 22nd October 2015)