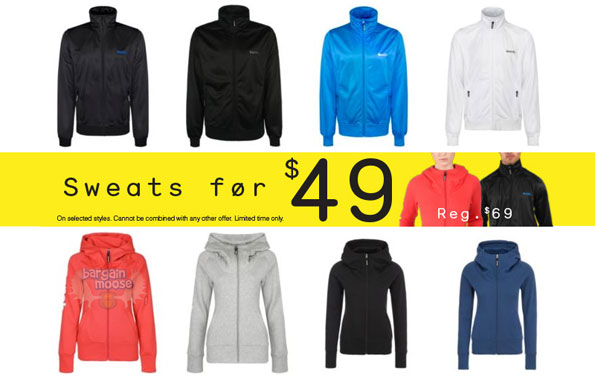 Have you been meaning to hit the gym or get more active? Then you're going to need proper sweats, especially since March is fast approaching and the snow is likely to melt very soon, which means that you will be able to hit the great outdoors to  train. Usually priced at $69, Bench Canada has reduced two of its sweat styles by $20, down to $49.
For women, the gorgeous plain hole tracky is available at a discount in the following colours: hibiscus, greymarl, black or dark denim. One of the very first things I always look for when buying new clothes, especially online, is the make of its fabric and luckily, this hoodie has as much as 70% cotton.
Men on the other hand, have the zip through track top B available in either black, sky diver (blue) or bright white. Its style reminds me of the kind of track top a soccer player might wear, but it could totally be worn for just about any other physical activity as well.
There is also up to 70% off available in Bench's sale section and in fact, I also spotted this lovely active bending jacket for just $49, down from $99, in case the one above didn't appeal to you. If you need a new winter jacket, there is even one for half off: the Baloney jacket at $119.99 (reg. $229) but there is loads more to choose from as well.
Be sure to reach the $99 minimum threshold for free shipping to avoid those pesky shipping fees.
(Expiry: Unknown)