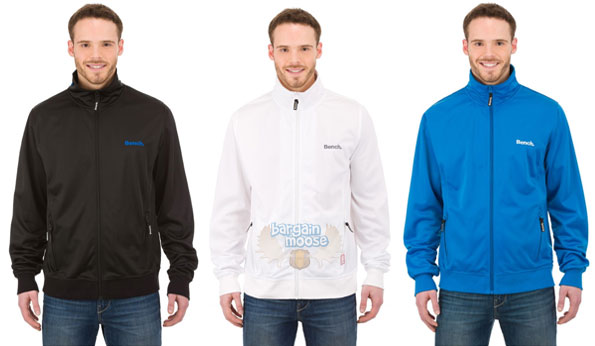 Outside cold temperatures got you down? Stay warm and cozy with the zip through track top at Bench. It's already on sale for $59.99 (reg. $69) and gets further slashed in price down to just $29.99 at checkout. In fact, you can save an additional 50% off all sale items for a limited time. The discount is automatically applied at checkout.
Advertised as being for track, field or playing ball, this track top certainly looks like it could be a lot more universal than that. Gone are the days of corny-looking track suits with bold colours as this one is actually quite stylish. Available in either black, white or blue, it would seem that the last option is actually the most popular as only sizes L through XL are still available. The other two colours are still available in all sizes.
I asked my hubby which one he would like and he automatically zoomed in on the black alternative. Personally, I much prefer the white one as I find it would look even better with a pair of jeans, but to each their own! Also, the collar is certainly perfect against the cold wind as it's perpetually popped up, whether the jacket is zipped up or not.
I also found a similar style for women: the answell zip thru. Since it's on sale for $79.99 (reg. $89), it can be yours for just $39.99. Primarily made out of cotton, it's a slim fitting zip jacket with a hoodie. You can get it in either white, black or grey.
With any of you with a little girls, thesnowdrifter hoodie is worth checking out as well as it matches the other two jackets mentioned in this post. Heck, you could get a similarly-styled jacket for the entire family, have everyone math and get an additional half off everything! :P
The snowdrifter hoodie comes further down to just $34.99 from a sale price of $69.99 (reg. $79) and although like the womens' one, it too has a hoodie, albeit one lined with fuzzy fleece for extra warmth.
There is plenty more sale stock to choose from but I suggest that you sort it by price from the lowest to the highest to really get the most bang for your buck. There are a number of t-shirts and vests that you can get for $10 or less.
Shipping is free on orders over $75.
(Expiry: Unknown)