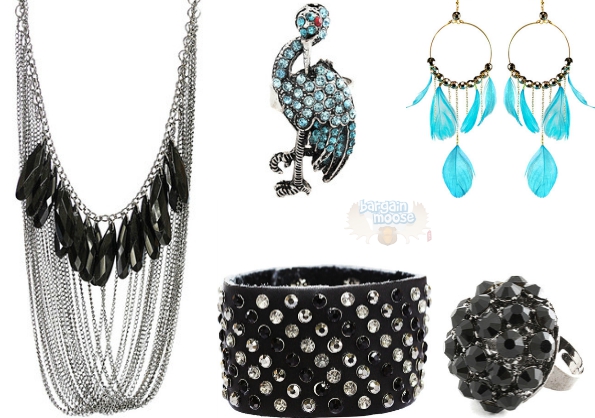 B&B Couture has a stellar sale on jewellery right now. I found a good selection of necklaces, rings, and bracelets on sale. Original prices range from $15 to $40 for most pieces, but now each piece is marked down to only $5 - that means you save up to 87%. You can score a huge haul of jewellery for the price one of these pieces would have cost if bought retail. Receive free shipping on orders of $50 or more.
You can really spoil yourself rotten on a budget with this jewellery sale from B&B Couture. These pieces would also make excellent gifts to friends for birthdays, occasions, or 'just because' you are friends and you felt like it. If you have young girls, then you could buy a selection of jewellery and give it to them for costume jewellery. This sale also is a great place to hit up for stocking stuffers. Because of jewellery's small size, and small price tag in this sale, these pieces make excellent stocking stuffers.
There are so many pieces to choose from that in this post I am just going to focus on the highest discounts.
This Shine Bright Leather Bracelet in Black was $40 and is now $5. The patent leather band is studded with crystals for ultimate flash and glamour around your wrist. Similarly, the Ombre Stud Leather Cuff in Black is also made of leather and studded with crystals. However, the Ombre cuff has black, grey, and white crystals on it that create a wave like pattern. Originally $40, this bracelet is also on sale for just $5.
This Flower Tassel Necklace in Gunmetal makes an excellent statement piece necklace. This necklace is huge - make sure to look at it on the mannequin provided. It rests more around mid-chest than on the décolletage. Originally $40, the necklace is now on sale for $5.
There are also a couple necklaces on sale from $35 down to $5. After the three deals above, these are the next best deals. This Smiley Crystal Necklace in Silver is the most sparkly smiley you will ever see. The base is in black and the crystals are all white. I much prefer the delicacy of the Triple Cross Charm Necklace in Gold. The chain is much shorter, which fits how I like to wear my necklaces. Again, this necklace was $35 and is now only $5.
Shop the entire selection of $5 earrings, bracelets, necklaces, and rings at B&B Couture.
(Expiry: Unknown)