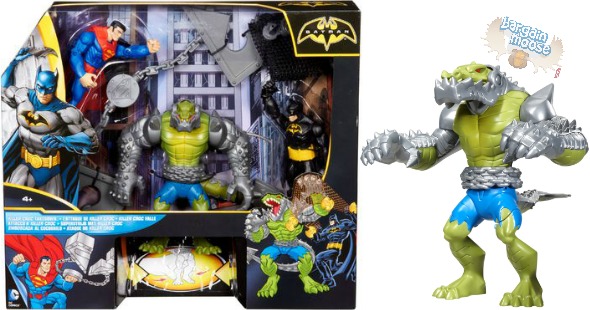 Any little boy will enjoy the figures included in this Batman Killer Croc Takedown Figures Set. Walmart Canada has this set on sale from $30 down to just $15, and you won't be disappointed. Help Batman and Superman take down the Killer Croc as a tag-team. You'll even get free shipping from Walmart.ca.
Nothing sounds scarier than a mutant crocodile! This mutated crocodile known as Killer Croc has attack claws that activate when you squeeze his legs. Fortunately enough, Killer Croc is no match for Batman and Superman, especially when they work together. Use the power of these two well known super heroes to defeat the mutated crocodile with the necessary tools that are included. This set would have normally cost you $30, but is now half price at just $15. 
This set is best suited for ages four and up, since there are some small parts. The items included in this Batman Killer Croc Takedown Figures Set are:
Batman figure
Superman figure
Killer Croc figure
trap claw accessory
capture net accessory
What means will you use to capture the Killer Croc for good? This set is great even if you have two boys, since they won't fight over who gets to be the good guy. If you're prepared for a fierce battle and for endless hours of play - then this is a toy you should add to your cart, and pronto. You will want to snag this deal as quick as you can, since the stock is already limited online and who knows how quickly this feature set could sell out. This set compares at much higher prices at other retailers. For example. Amazon.ca has this set on sale for $49.98.
The reviews on the Walmart Canada website for this product look pretty decent. One mom complains that the paint doesn't have the best detail, but her son doesn't mind. Other parents say that this set exceeded their expectations especially considering how low the sale price is. It truly is a great value for three full sized action figures. Each action figure is 6" tall. I know my son would love to play with these even at his age, but I would be worried about him swallowing an arm or something haha.
Walmart.ca also offers free shipping on all orders, no matter how much or how little you spend. That means the only additional cost you will have to worry about is taxes. Let's just hope that your boys don't capture the family hamster or cat in the net or claw.
(Expiry: Unknown)