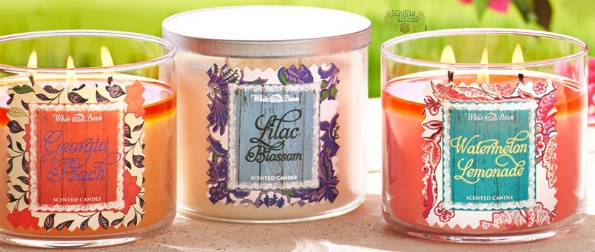 ** This is back dear Moosers! Score your sweet free item (up to $15 value) with only a $10 purchase!**
Bath & Body Works is back with a hot printable coupon code for in store use. With any purchase of $10 or more, receive a free item worth up to $15 with this printable coupon.
As I have mentioned before, Bath & Body Works generally does not offer these coupons that often. I am surprised this is the second coupon of this type in one month! It is also the best, in my opinion, coupon for Bath & Body Works as the value of your freebie is more than the required purchase. That is certainly better than a $10 off $30 coupon or a 20% off coupon.
I am interested in the new fragrance mists at Bath & Body Works. While they are designed for spritzing on the skin, they have other uses as well. I imagine spritzing the Cotton & Lemonade scent in my freshly cleaned car for a refreshing smell. Traditional scent and sanitizer products like Febreeze can be a bit harsh (and really do not go with leather seats). They also come in limited fragrances. A mist like the ones from Bath & Body Works would be nice to use in my car just before I pick up a friend for dinner.
While they cost a bit more expensive than $10, I am delighted by the diverse scent selection of Bath & Body Works' candles. First, three-wick candles are great because they burn more of the wax and also give off more light. A single wick in a 'fat' candle just leaves you with so much unused wax. Stress Relief, Sundress, Bow-Ties & Burbon, as well as Vanilla Bean Marshmallow all sound like delicious scents! I love eating marshmallows, so I would probably choose that scent for my home – certainly for my bedroom!
My lovely Moosers, what are your favourite Bath & Body Works products? Do you have a favourite scent? It is just so hard to try all the scents that Bath & Body Works offers - there are so many! I really like sweet scents or spicy scents.
There is a limit of one printable coupon per customer per visit.
(Expiry: 28th August 2015)