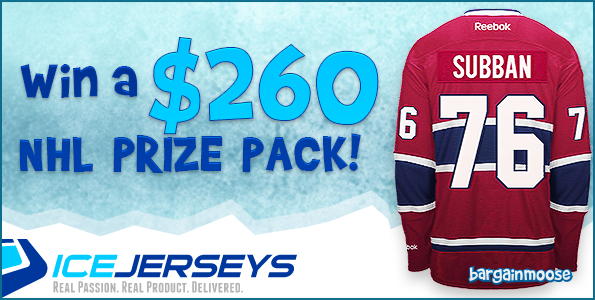 *** Contest now closed, winner was Mooser Julie! ****
The cooler weather is making its way in and that can only mean one thing - hockey! Get prepped to cheer on your favourite team with this fabulous contest from IceJerseys.
We are giving away a prize package worth up to $260 and includes one IceJerseys Pro customized NHL jersey of your choice (up to $200 value), an NHL team t-shirt of your choice (up to a $30 value) and an NHL team hat of your choice (up to $30 value). You'll be decked out and ready to watch your team make their way to the playoffs.
If you are a Montreal Canadiens fan, you might like the PK Subban jersey, along with the fitted '47 franchise cap. If the Leafs still float your boat (good for you, for staying true!), you might choose this Nazem Kadri Toronto Maple Leafs NHL hockey jersey. Other fans in your household could wear this Toronto Maple Leafs Granby slub t-shirt, while you wear the jersey. Of course, you could also be a fan of the Vancover Canucks and of Ryan Miller and want to wear his jersey. Add the Vancouver Canucks condensor stretch fit cap for a complete look.
You could also mix and match for an "I just want a Canadian team to win" look. You could also choose any American team's jersey, t-shirt or hat too. We won't judge you, I promise.
If you can't wait to find out if you've won the contest and want to shop now, be sure to visit the IceJerseys coupon page on Bargainmoose for $15 off any NHL jersey, plus other juicy coupons.
How to win this prize?
Comment below on the following question(s):
Which jersey would you pick if you won and why?

Get bonus contest entries!
Rules:
Canadian entrants only
One entry per household
Ends 28th October 2014 (Contest closed)
Rules subject to change at admin's discretion