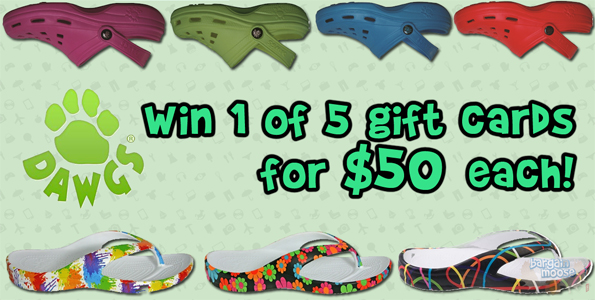 *** Congrats to Deb, Morgan, Irene, James and Brenda! ***
We've been telling you a lot about Canada Dawgs. These what I would call "Croc-like" shoes are very inexpensive and can be quite stylish. I hear they are flying out of the store like hotcakes and you'll want to be the next to try them. Luckily for you, we here at Bargainmoose have a fun contest that will get five lucky winners an e-gift prize of a $50 credit to get whatever you want on the site.
We've got a sweet coupon code for the next week - MOOSE40 - which will get you 40% off whatever you'd like on their site. I recently got myself some dawgs and I was happy with what I got.
Specifically I got my husband these men's crossover slip-on golf shoes. While they are a golf shoe with cleats at the bottom, he wears them quite a bit and they are very stylish with that houndstooth pattern. He loves them and says they are incredibly comfortable. He wore them today with track pants and they looked just as nice as when he wore them with jeans and with dress pants. They are a very versatile shoe. Regularly $74.99, they come down to $44.99.
If you don't notice the discount in your cart when you add the coupon, go all the way to checkout and you'll see it.
Their biggest product is their Beach Dawgs, which are very much like Crocs. I got a pair for my son and they were definitely something he'd wear, especially for the cottage and beach. My only issue was that they fit too small. I ordered him a size 2 and they fit more like a size 12 in the next sizes down. My middle son is almost at that size so he'll be able to wear them for a bit, so I don't fret considering I have three boys, someone will use them, eventually! Just know that you might have to order up a size or 2. At only $12 after coupon, these are a steal.
Canada Dawgs offers free shipping on $50 as well!
How to win this prize?
Answer the following question: What pair of Canada Dawgs would you love?

Get bonus contest entries!
Rules:
Canadian entrants only
One entry per household
Ends 29th July 2015
Rules subject to change at admin's discretion
Winners will be chosen by random drawing and will be notified by the email account associated with their Bargainmoose account. Please be sure to check your email frequently so you don't miss out on this opportunity!