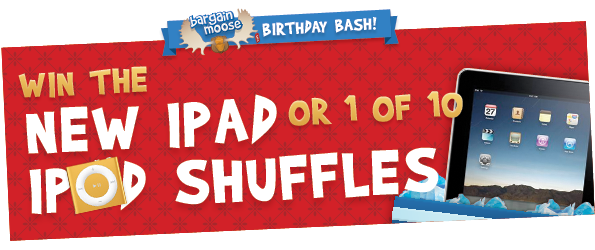 *** Contest now closed, winner is Bargainmooser Ann!! ***
I can't believe it! Bargainmoose is FOUR years old this month! We first posted here on the 16th of August 2008, and here we are four years, and more than ten thousand blog posts later. But this site wouldn't exist in the form it is now without YOU guys - the Bargainmoosers! And to repay you for being my loyal Moosers, I am going to have a super-fantastic Canadian giveaway.
"What can I win," I hear you ask. Well, you can win a NEW 16GB wi-fi iPad worth $519. Do you want it? DO YOU WANT IT!! I've only got an iPad 2 myself, and even I want it!!
As well as that fantastic top prize, we're also going to be giving away TEN iPod Shuffles, each worth $49, over the course of the next ten days. Check back daily to win one of the iPod Shuffles and to gain more entries to win the new iPad. Tomorrow will be the official "Day 1" of the contest, where we will give out the first iPod shuffle, as well as bonus entries to the new iPad contest.
First of all, if you want an entry into the contest for the new iPad:
Comment below, telling us what major events happened to you over the last four years.
Make sure you are subscribed to the Bargainmoose daily email newsletteras everyone subscribed there will be automatically entered into the iPad contest.

For bonus entries:
Tweet out a link to this contest (make sure to include @bargainmoose)
Mention this contest on your Facebook wall
Rules:
Contest ends 29th August 2012
Canadian entrants only
1 type of bonus entry per contest per day
Admin's decision is final, contest is subject to change
Well, I for one, am stoked to be giving out such a super set of prizes. I hope you will be just as excited as me!
Good luck Moosers!