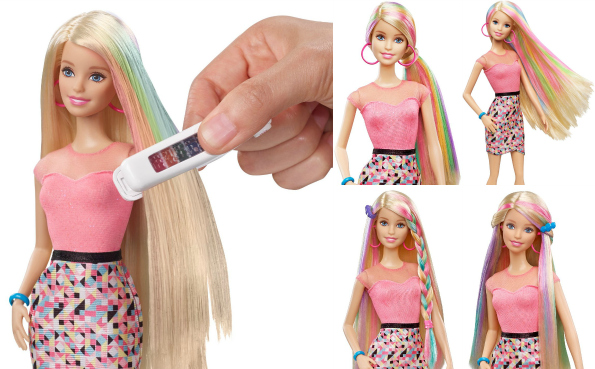 Amazon Canada is offering 59% off this gorgeous Barbie Rainbow Hair Doll. Originally $28.99, this doll is on sale for just $11.97 right now. She is a great buy considering that Toys R Us is completely sold out of this doll and Walmart doesn't carry her. Receive free shipping on orders of $25 or more. Alternatively, Prime members receive free shipping on any order.
This Barbie is more than your average doll. She comes with a hair tool that changes her hair with one swipe. The hair tool will give Barbie a rainbow of colour in her hair. Then you can further decorate Barbie's hair with three barrettes (pink, purple, and blue), hair bands, and a blue brush.
This Barbie is all about her hair, but she comes with some gorgeous fashion accessories as well. She is wearing a shimmery pink top paired with a graphic print skirt. Pink earrings tie the outfit together. A blue bracelet accents her wardrobe and black shoes ground the entire ensemble.
You can colour all of the doll's hair or just chunks of it. Her style is up to you. I think this is a really cool doll that would make a fantastic Christmas gift and there is still time to receive her before Christmas.
If you are looking for some other dolls to fill up your cart, don't miss Barbie Glitter Hair Design Doll on sale from $29.99 down to $14.99. Again, this is all about the doll's hair so you get to put awesome designs on her hair like glittering hearts and stars. These dolls might be great when given together and - together - they are above the $25 free shipping minimum.
I would be remiss if I did not mention the lovely Frozen dolls currently on sale. Disney Frozen Sparkle Princess Elsa is on sale from $20.99 down to $10. Her sister, Disney Frozen Sparkle Princess Anna is also on sale from $29.99 down to $10 each. I think these dolls are best given as a pair so Elsa and Anna have each other to play with.
All four of these dolls are an amazing price and would make great Christmas gifts for any budget. Let me know what ones you pick up.
(Expiry: Unknown)