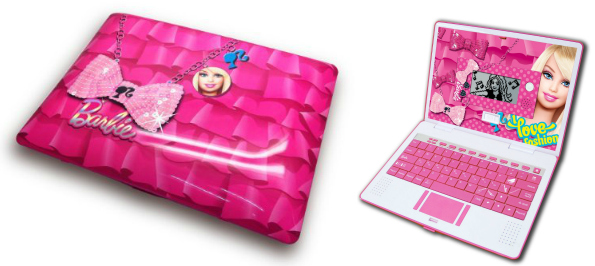 I found the coolest toy for young girls into Barbie dolls. The Barbie B-Smart Deluxe is a fun tech toy designed for girls that converts into a tablet. It comes fully located with 60 educational activities including several touch games playable on just the detached screen. Originally $59.99, the Barbie Convertible Laptop is now on sale for $29. Receive free shipping to your local Canada post Outlet or a Grab & Go locker.
This awesome little tech toy is designed for girls ages three and up according to Walmart. However, Amazon.com recommends this laptop for girls 5+ and many reviewers agreed with this. I guess it just depends on their learning level and dexterity. With 60 games, your child will never get bored of playing with their Barbie laptop. Whether at home or on the go, this laptop will be a great little toy for keeping the mind entertained.
When in tablet mode (keyboard detaches), you can play 10 touch based games, which should be enough to keep little fingers busy for a couple hours. The other 50 games all use the keyboard QWERTY keyboard so they are excellent for improving typing skills. So much school work, home work, and research is done on computers these days that typing skills are imperative to learn at a young age.
One reviewer said:
My daughter loves this laptop! The removable screen is great to take in the car as well. Lots of good learning activities and it can be in French or English.
I really could not find this laptop available anywhere else in Canada so this is your only chance to get your hands on this cool tech toy for your little one. This would make an excellent Christmas gift as it is really cool, Barbie themed, and a toy that will last your daughter a long time. Make sure you have a couple AA batteries on hand, as this laptop is battery powered. I would invest in rechargeable batteries or you will be constantly swapping out used batteries for new ones.
(Expiry: Unknown)