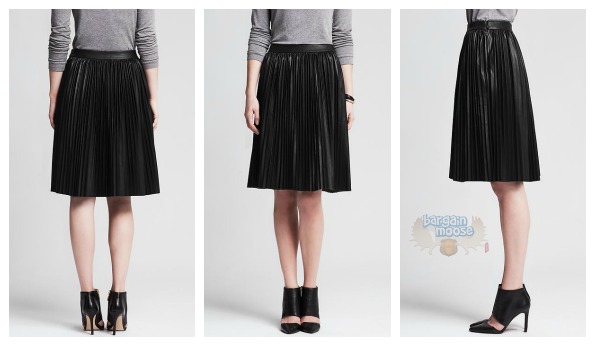 I absolutely love the happy union of a coupon code with a steep sale item that also combines with free shipping. This Pleated Black Faux-Leather Skirt was originally $185, but is now discounted to $59.97. Use the coupon codeBRSALE to take off another 40% (expires end of day today). The skirt comes down to just $35.98. As your pre-coupon total was over $50, you will still receive free shipping on this skirt.
Click here to purchase the faux-leather pleated skirt @ Banana Republic now
I chose this skirt for several reasons. First, it has a large range of sizes still available: from size 0 through size 14 (except size 12). Not only that, both the 'tall' and the 'petite' size ranges are also discounted the same amount. In tall you can purchase sizes 2, 4, and 8. In petite, all sizes except 4 and 10 are in stock. Essentially, there are a ton of size options in this skirt. The three different size ranges have different skirt lengths:
Petite: 22"
Regular: 24"
Tall: 26"
Second, I chose this skirt because it has such a high original value and is one of the highest discounts available in the sale section. After coupon code, you are saving a substantial 80.5% off the original price. I am pretty impressed at this discount!
Third, this is a gorgeous skirt. I love leather and leather-look products because they have this edgy sophistication to them. Skirts are one place I have never experienced the look or feel of leather... and that may change very quickly. This skirt is pleated, which makes my heart nearly stop beating. I LOVE pleats as they remind me of school girl uniforms that I never got to wear. Pleats are also so cute and provide a beautiful sway to your garment.
Honestly, this skirt gives me a 'naughty school girl all grown up' feeling. I could pair this gorgeous black faux-leather skirt with so many items in my wardrobe. For an edgy look, I could wear a black lace top and a body harness. For something more office appropriate, a dress shirt with the cuffs rolled up and a comfortable pair of matching black-leather heels.
There are no reviews, but three votes give this skirt a 4.3/5 star rating. The skirt is final sale unless there is a manufacturer's defect. Be careful to choose the right size!
(Expiry: 30th June 2015)