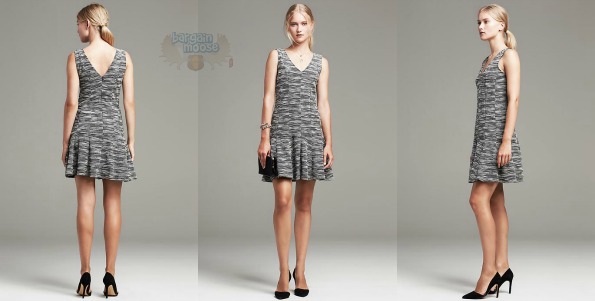 **BUMP - This dress is now on a steeper sale and is eligible for an extra 50% off with coupon code – BRCSPRING. Purchase this dress for only $16.99 (after coupon) right now ***
Banana Republic sometimes has really great deals on clothing. Currently, this Marled Tweed Fit-and-Flare Dress is on sale from $160 down to$44.99. That is a 72% off the original price.
Okay! We have a cute dress that is fitted up top and flares out around the hips for a slightly sheered look. The colour palette is fairly neutral: black, grey, and white. This actually makes an excellent dress for the office as the pattern isn't loud and the colours are muted.
The dress is a V-neck and sleeveless, so you may want to pair it with a cardigan if your office requires upper arms be covered at work. The website suggests the dress be dry-cleaned, but it is just made out of polyester and cotton. I do not see why you could not carefully hand wash it and then hang to dry. Seriously, I sometimes think clothing companies get paid to support the dry-cleaning industry.
Reviews on the dress are rather mixed. The main complaint appears to be the length, on taller gals the dress is a bit too short for more formal occasions or office appropriate wear. As this reviewer said:
Nice classic shape that follows body contours but doesn't hug too tight. Comfortable and classy at the same time. I'm 5'6" and the dress falls a couple of inches above my knees. As I am 49, I wish it was a little longer, but this gives me motivation to tone my legs, haha!
Now, I like several other things about this deal. All sizes are in stock, which is pretty unusual for an item discounted over 70%. You can purchase this dress in size 0 up to size 14.
There is a petite version of this dress, but given the difficulty with length, you may want to stick with the regular size chart. The petite dress also costs $5 more as it is currently on sale for $49.99.
Banana Republic Canada offers free shipping on orders of $50 or more. Remember, Old Navy. The Gap, and Banana Republic share carts so you can grab a shirt off of Old Navy easily to top up your cart.
Given the full stock right now, I expect this deal should last a bit. Still, you do not want to miss out on your size!
(Expiry: unknown)