Lesley is an avid Mooser over on our Facebook page, and today, she messaged me with quite a deal! The black Baby Bopp Changing Station is priced at $34.99 on Amazon.ca, but Lesley told me of a coupon code which discounts it by $30.99 – bringing it down to a final price of only $4!? What!?
Click here to get the Baby Bopp @ Amazon.ca now
CouponCode: FALLSALE
Discount: $30.99 off the Baby Bopp
Expires: Unknown
The Baby Bopp diaper travel kit is sold by Sunmor Trading but the order is fulfilled by Amazon themselves. This means that if you have Amazon Prime, then you're going to get free shipping on this order. If you don't have Prime, you'd either have to pay a few bucks for shipping, or make your cart up to $25 or more for free shipping to your home.
Here's a screenshot of my cart at the last stage of checkout to show you the discount: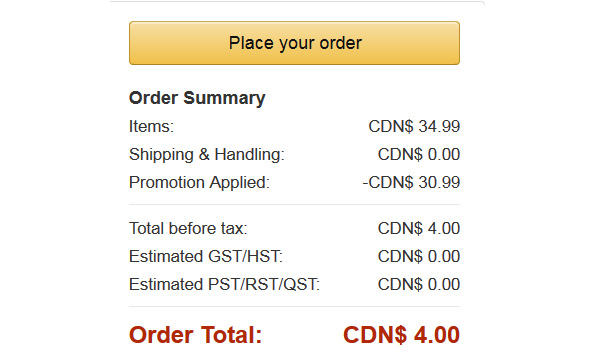 In terms of pricing elsewhere, I can only find this type of diaper change product on some of the Asian sellers, such as here on Aliexpress. There, similar items to this are selling for around $26! For only $4 with potential free shipping, this is a SUPER deal.
When my babies were little, I had a similar mat which tucked into my diaper bag. I wouldn't leave the house without that mat! It was so nice to be able to pop the mat on potentially icky surfaces when we were out and about. With the Baby Bopp kit above, I guess you wouldn't have to worry about that at all – you could just open up the diaper changing kit and away you go.
The Baby Bopp also seems to have some zippered pockets which you could put in your bits and pieces, that you need for changing the baby on the go. I'd probably tuck a few diapers or some wipes in those.
There are only two reviews of this item on Amazon.ca but both are five stars and extremely positive - have a read!