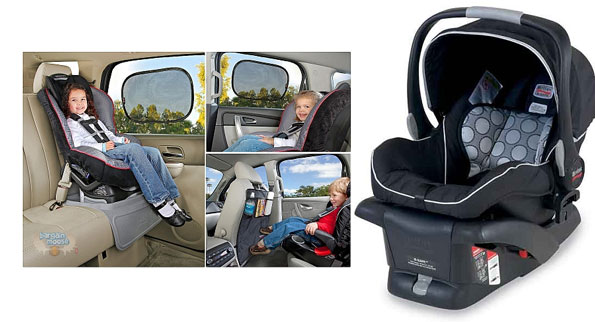 Shopping for a car seat? Toys R Us has a great freebie going on right now: with purchase of any Britax car, you will also get a free 3-piece car accessory value pack.
Valued at $49.99, the Britax 3-piece car accessory value pack comes with:
a vehicle seat protector
an EZ-Cling window shade with 30+ UPF
a full-size kick mat
Just the other day, I was driving with my little one in the backseat and I had to make sure that the sun wouldn't be beaming down on her in full force from our positioning in the parking lot. Whether I was being overprotective or not makes no difference but a window shade could have definitely simplified the whole process of driving around with her in the back. In fact, I have often found myself trying to shield her from the sun as hubby drove and I was in the backseat with her.
Although this accessory pack may not seem worth it to those of you shopping around for an infant car seat, I actually wish I could have taken advantage of such a promotion when I was shopping around for a car seat, just to have all of these items for when the time came to officially switch car seats to a forward facing one.
I particularly like that the window shade has a 30+ UPF to protect little ones from the damaging rays of the sun. In general, this accessory pack has some pretty great reviews, like this one:
All you would need to protect your car and toddler from each other. The mat is very rugged and can withstand a beating. The kick mat looks sleek and blends in with the car's seats without wanting attention. The UV protector on the window is clingy and doesn't fall like some other brands.
The only other place I found this value pack at is at Amazon's Marketplace and even there, it's actually $79.99.
As for shipping rates, I individually added the Britax B-Safe infant car seat at $199.99 and the Britax Pinnacle CT Harness 2-Booster for $399.99 and the fee stayed the same at $40 ($50 minus a $10 discount automatically applied). The car seat accessory value pack was also automatically added at checkout.
(Expiry: 27th July 2014)