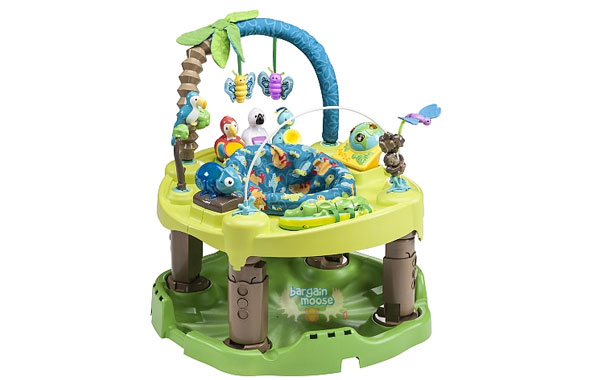 Back at the end of May, I wrote about Babies R Us' $40 reduction of the Evenflo Exersaucer Triple Fun: Life in the Amazon. Even a $40 reduction was a great deal but surprisingly, Babies R Us is now offering an even better deal on it and I doubt that it will ever go down lower than this. Until the end of the week, it's on sale for $89.97 (reg. $149.99) and you can bring the price even further down by adding the Toys R Us promotion code: EVENFLO10 at checkout to get it for just $79.99 for a total of a 47% discount off its original price.
In my original post, I didn't even consider getting the Exersauser at its original sale price of $109.99 because I had just purchased the Baby Einstein: Caterpillar Friends play gym, but with Toys R Us' current deal, I have actually already added it to my basket.
This Exercauser is basically a three-in-one activity set because it comes with a play mat, the exersauser and a table, with all three featuring their own activities. The great part about all of these is that they are meant to encourage your baby to exercise his or her mind and body by figuring out how things work, through sound and most importantly through touch. Age- wise, it's recommended to use each stage in the following ways:
Play mat: newborn to four months
Exersaucer: four months to walking
Table: walking to 24 months
Of course, these are only guidelines and it really depends on your baby. If your little one can already hold his or her head at three months, then the exersauser could potentially be used earlier. Despite the fact that my little one already has a different play mat and is almost three months old, I can definitely see her enjoying all the stages of this exersaucer as I figure she could benefit from a little variety in music and visuals.
I also really like that this exersaucer can easily be folded away and that it comes with nine toys designed to achieve a vast variety of developmental milestones.
Shipping is also a lot a cheaper than it was when this exersaucer first went on sale. On its own, this product ships for $25 but since it qualifies for free shipping of up to $20 off, then you will only pay $5 to have it delivered straight to your door.
(Expiry: 17th July 2014)