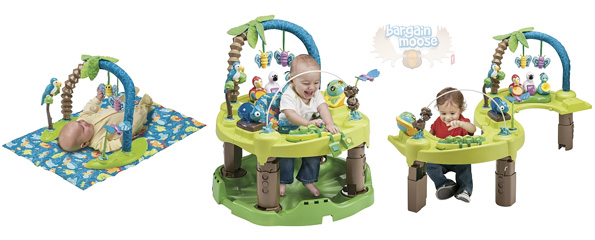 Originally priced at $149.99, the Evenflo Exercauser Triple Fun: Life in the Amazon is on sale at Babies R Us and is available for just $119.97. Plus, the Toys R Us coupon code Evenflo10 brings the price down by an additional $10 to just $109.99.
Had I known last week that this exercauser would be going on sale, I definitely wouldn't have bought the Baby Einstein: Caterpillar Friends play gym, although at the time, I thought I was getting a great deal because it was reduced by 50% instead of its full price of $89.99. Don't get me wrong, on its own, it was indeed a great deal but the Evenflo exercauser comes in three stages: a playmat, an exercauser and an activity table, which can all be used as your child grows (newborn to four months).
This amazing exercauser features four stars out of four and... get ready for this... over 800 reviews! You certainly can't go wrong with that many, especially with comments like the following:
My seven month old son LOVES being in this exersaucer! My husband and I love it just as much as he does. It gives us a break from having to hold him all the time and he learns different sounds, shapes, colors and textures. It also is really great for his leg strength. It is a great product!
According to many reviews, it takes about two hours to assemble, but that's a small price to pay for your child's happiness! Just make sure to get batteries seperately as they are not included. Plus, it can be folded and easily taken on the go or stored for later use.
Now for a price comparison; although Amazon.ca itself doesn't have this exercauser, it is offered through their marketplace program with a user selling it for as high as $222.99. Walmart's price is also higher at $148.86 and they currently don't have it in stock anyway.
Shipping is usually $25 on items such as these, but a $10 shipping discount will automatically be applied at checkout.