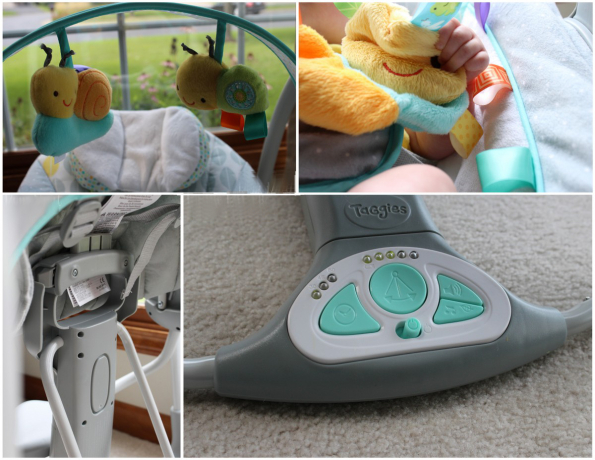 Are you expecting or do you know anyone who is expecting? Here is a wonderful deal on the Taggies Fold 'N Go Portable Swing in Leafscape at Babies R Us Canada. Thanks to the Black Friday discounts, you can score this portable swing for just $65.97 as opposed to the regular price which was $109.99. You will also get a $10 discount on shipping, which could result in free shipping if you are lucky.
The Taggies Fold 'N Go Portable Swing is so cute. If I had an infant, this would definitely be added to my shopping cart. The fact that it is available for such a low price is amazing. I mean, you only have to pay $65.97 when this item was originally $109.99.
I used my son's swing religiously when he was an infant. It gave me a few minutes of having my hands to myself so that I could do the dishes or even read a book while he was content. It saved my sanity several times, especially because I did things all by myself. The rocking motion would soothe my son into a sleep and keep him content even if he woke up before I was ready to play again. This swing also folds down to an ultra portable size for ease of travel. That makes it super convenient to bring with you to Christmas dinners, your parents' house and any other place that you may be adventuring with your little one.
This swing even has a timer! You can set the timer to 3 different settings: 30 minutes, 45 minutes and 60 minutes. It can hold up to 20 pounds. This swing requires 4 D batteries which are unfortunately not included. There are also tags galore on this thing, and we all know how much babies love tags.
BabiesRUs.ca is also offering a $10 discount on the shipping of this item. Estimated shipping to my home was $13.27, which means I would pay just over three bucks for shipping once the discount is applied. There is no coupon code required for that discount, it is automatically applied at the check out process. If you don't want to pay anything for shipping, you can always check your local store for availability as well.
(Expiry: Unknown)