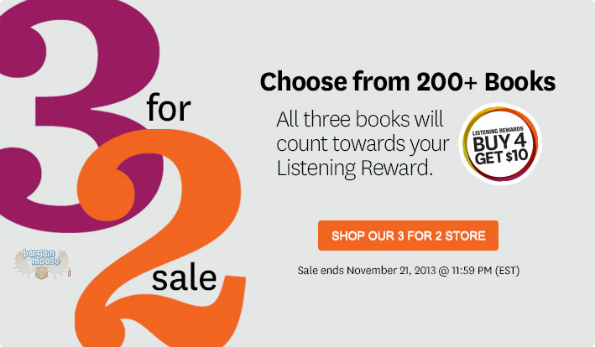 Awesomesplosion is what this sale is! Buy two books and get three. It's like magic! Audible.com magic!
A quick explanation about the link in this article. If you aren't a member, the link brings you to a sign up page where you get a free audiobook. This is yours to keep forever even if you cancel your account before the next credit. You won't cancel though. It's awesome. If you are a member and logged in, you'll go to the audible main page.
The link below, if you are a member and logged in, brings you to the 3 for 2 sale. If you aren't a member it will bring you to a log in page. You'll want to go back up to that first link and get your free book before you use this link.
You get to pick from over 200 books and get two for three. There are a few different categories including Editor's Picks, Customer Favorites, Risque Romance and True Life. The best one, I think, is the "Start the Series" category. These are all awesome series' that you can pick up. For example, I'm going to use this sale to get all of J.R.R. Tolkien's Lord of the Rings trilogy. I hated the movies and I've written a fantasy novel without having read these books. I feel like a bad, bad geek but I don't care. I do like a sale though so I'm gonna pick them up while I can get all three of them for the price of three. Of course if you aren't a big nerd you can pick up something from all those other categories.
(Expires: 22nd November 2013, 2:59AM ET)