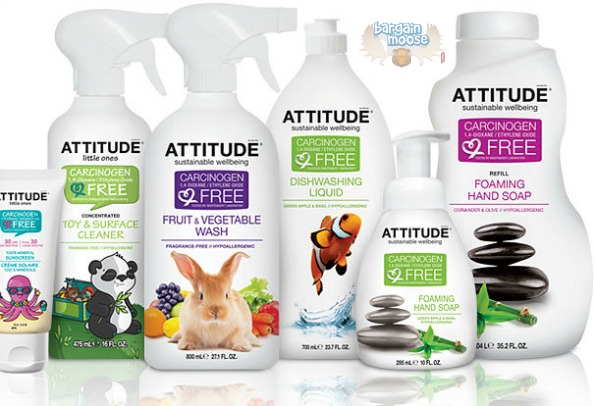 I feel like we haven't had many exclusives blogged lately, so I thought I'd tell you about this really great one from ATTITUDE for 25% off your entire purchase.
Click here to shop @ Cleanattitude.com now
Coupon Code: MOOSE25
Discount: 25% off
Expiry: 22nd June 2014
As I recently told you, ATTITUDE is a sustainable and safe line of mom and baby products. When you are a new mother, your first instinct is to protect this little life from absolutely everything. You go in maybe not being that natural of a person, having your favourite products full of toxic chemicals and not really thinking twice about it. But then you hold this teeny person in your hands and all of a sudden, nothing is good enough. I really experienced this and I kept it going, really trying to keep out the toxic products that are "meant for babies" and even have tried to avoid ones on myself.
But, here's where it gets even tougher: some products are labelled "organic", "natural", "green", etc., but they really aren't. I did read this "why it matters" page on ATTITUDE's site and it says they don't have a number of toxic chemicals, they don't test on animals, they use recyclable materials and renewable energies. I think that says a lot, but I would always urge you to do your own research on any new product you might bring into your home.
Since I don't have a baby any longer, I am interested in the cleaners. I'm always looking for a good and natural bathroom cleaner and this one is even Made in Canada, which is a bonus in terms of buying (mostly) local. It was $5.99 and getting 25% off saves you $1.50, so you'll only pay $4.49. That's not the highest savings ever, but if you stock up and get quite a few different products, your savings will definitely add up.
Shipping is a flat fee of $6.95, so stocking up won't cost you any extra and this ATTITUDE coupon is only good for a few days.