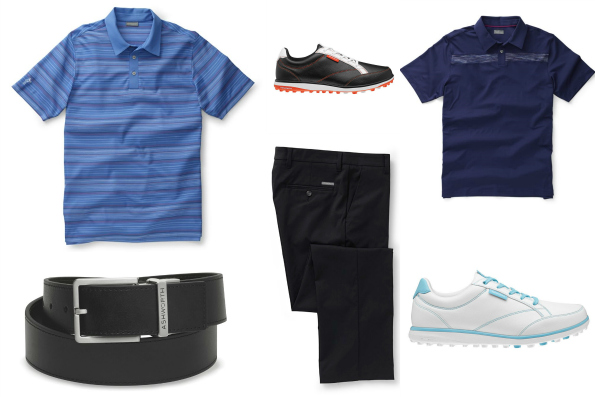 Ashworth Golf is offering 40% off their entire outlet and an extra 30% off when you add items to your cart. The deals stack together beautifully for huge savings on golf and other athletic apparel. You will want to shop this sale as you will also receive free shipping with no minimum.
Everything through the link above is an extra 40% off when you click through to the individual product page. Then, an extra 30% is taken off when you add a product to your cart. While the sale section isn't big - the discounts stack up for huge savings on anything you might want to purchase.
There is one item already on sale that is in the outlet section. This Reversible Dress Beltwas $70 and is now $35. It comes down to $21 when you click on the product page (as you can see) and then comes further down to $14.70 in your cart. Sizes are limited.
I am rather excited to see what these two discounts can do to a pair of women's golf shoes. These Women's Cardiff ADC shoes cost $139.99 but come down to $83.99 on the product page. Once I add them to my cart, their final price is just $58.79. These come in a white/aqua colour combination and a gorgeous black/orange combo with so many sizes still available.
Men can pick up some great athletic quality polo shirts for a great price. This Performance EZ-SOF Ombre Stripe Polo and this Performance Space Dye Chest Stripe Polowere $80 but your final price will be $33.60 per shirt in cart. There are many golf shirts and polo shirts on sale for around this price so you can pick up around two and a half shirts for the original price of one. Sizing goes up to XXL so there is plenty of variety for men of many different sizes.
There are also some great pants deals as well. The Performance Solid Stretch Trouser comes in four different colours: black, dark grey, pebble, and white. As they are a stretch trouser - they are absurdly comfortable for playing on the greens, working at the office, and lounging at home. Originally $85, they come down to $51 on the product page. Add then to your cart and only pay $35.70 for a performance pair of pants. The darker colours have the more limited sizes so place your order as soon as possible.
With such sweet stacking discounts and free shipping on your order with no minimum, I am sure stock will go fast.
(Expiry: 6th December 2015)