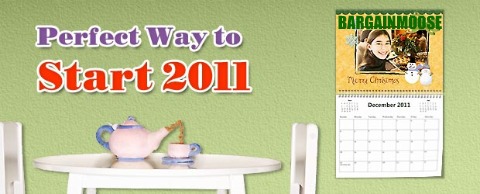 I have been thinking about how it is that time of year, two months before the new year, and for most people the time (I think) they start considering their Christmas shopping. Ok, maybe they wait till after Halloween. Anyway: Artscow has sent out a coupon code to get a personalized 12 month 2011 calendar for the discounted price of $10 with free worldwide shipping.
Click here to shop the Artscow Calendar
Discount: $10 calendar + free shipping
Coupon Code: 2011CLDRS
Expires: 12th, November, 2010
You can choose to pay a further $3 to upgrade to an 18 month calendar.
Btw, I think Artscow products are AWESOME. I got a personalized notepad from them and it was lovely! You just have to be careful when making stuff not to use things that make your design get really expensive. But mine turned out beautiful!!
Moosers, I want your feedback! I have always wondered how many people prefer 18 month calendars over 12 month calendars... and WHY? If you are a 18 over 12 person, let me know!