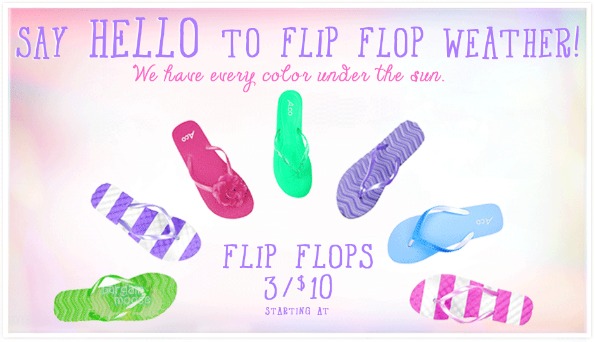 It is flip flop time! Get two or three pairs for only $10 at Ardene, on right now!
I live in flip flops. I am not a shoe/sock wearing person. I love having my feet set free, so it is so awesome to shed my winter boots and put on those flip flops. And really, can you ever have too many flip flops?
The regular price for the three for $10 flip flops are $5.50 each, so basically you are getting one and a bit free with this deal. The regular price for the two for $10 flip flops are $7.50 each, so you get half of one free. It all depends on what style you like best.
These pink faux braid flip flops(3/$10) make a bit of a fashion statement as they stand out and show off your tender tootsies!
These sporty wedge sandals(2/$10) can be worn on your way home from the gym, when you really don't want to wear your sweaty socks home.
I love these crochet mesh wedge thong sandals (2/$10). I could totally see me at the beach in these.
And for a pretty look with a casual summer dress, check out these flower power flip flops(3/$10).
Shipping is free on orders over $50. Hey, you could get 15 pairs!
(Expiry: Unknown)