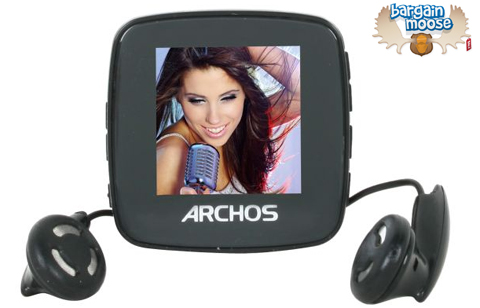 Right now at Newegg.ca, you can order the Archos 4GB MP3/MP4 Player For $27.99 with free shipping. The regular price is $54.99, so that's a reduction of $27 (nearly half price)!
The little Archos 4GB MP3/MP4 Player can let you store video, audio, and even has an FM radio too. Some of the features in the list:
Audio Playback
Video playback
Photo Gallery
Built-in FM Radio
Voice Recording
For $27.99 and free shipping, I think it's a good deal if you're looking for this kind of thing.
On Newegg.ca, in their feedback section, there are a few reviews of this particular item. They range from the good to the bad, so I would suggest you have a read of them yourself. Some examples:
Truly a piece of junk On my way to returning a 2nd one
Or
I really like this player. It is very small and has great sound quality. Video display looks sleek.
You decide!