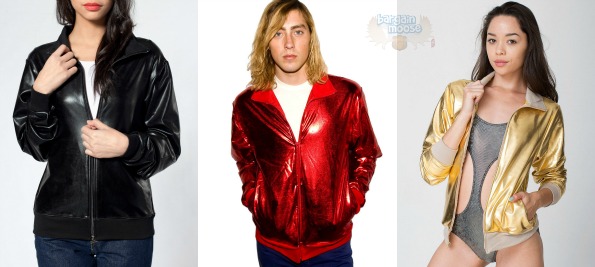 Get a deal on this unisex Shiny Wind Breaker from American Apparel Canada. Originally $62, the windbreak is on sale for only $18.
The windbreaker comes in gold, red, or black. The black is the most versatile and has the best size range still available. Oddly enough, when you choose to view this on the girl models, the red colour disappears and there is an extra size or two available in the other colours. I have included both links so you can see the full gambit of their size and colour options. Sizes start at XXS and go up to XL.
The black I could see totally working with your casual everyday outfit. However, the red and gold options are fantastic for using to create your own superhero costume. Superheroes like The Flash, Superman, and Shazam have a lot of red in their costumes, so you can incorporate the jacket into a warmer version of your favourite superhero. Just zip up the red jacket and paint a lightning bolt on the front of it. We are talking about Halloween during a Canadian winter here! Many superheroes also have a good amount of gold in their costume as well making a gold jacket perfect for your own superhero interpretation. You could even use the black jacket as the base for a Catwoman costume – she is popular!
In fact, American Apparel has an entire section full of sale items that could be good for Halloween. Pick up a Nylon Tricot Short Short for just $5 (was $24). The black pair would make a good base for many costumes like Catwoman, Zatana, and more.
These Nylon Spandex Micro-Mesh Leggings were $35 and are now $10 a pair. Pick up a red pair for your Poison Ivy costume, a white pair for any number of ice queens, and whatever else you have want to dress up as. I would personally use the white leggings with my Steampunk White Rabbit costume. That is the beauty of self-assembled costumes; you can reuse the pieces for different costumes.
Shipping is free on orders of $60 or more. For orders under $60, pay just $8 flat rate. As you are saving $44 per jacket not to mention the extra savings if you buy anything else, I think it is worth the shipping cost even if you are just ordering a couple things.
Hey Moosers! Do you make your own costumes or buy pre-assembled costumes for Halloween?
(Expiry: unknown)