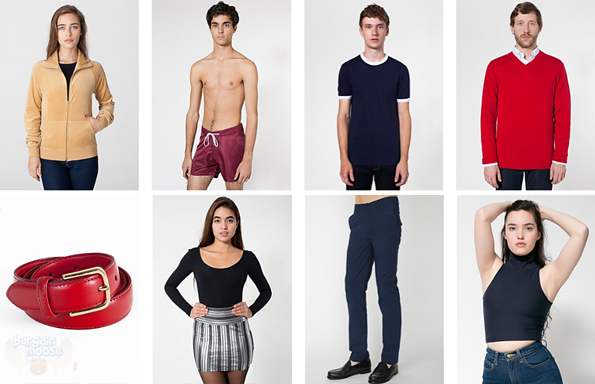 Hit up the sale section @ American Apparel Canada today – because they have added some new addition to their clearance pages and you can get up to 90% discount on select items! There are items for men, women and children, so you can have a browse for the whole family.
Now, I know that the fashion at American Apparel is not everyone's cup of tea. Some of their clothing is a little risqué (Lamé Denim Bustier anyone?) and even some of the modelling is slightly questionable, on site. But there are a lot of items on there that are more main stream and there are also some great prices, to boot. There are 1278 items to choose from, so I am sure there will be something to everyone's taste.
Here are a few of my picks for the guys:
And here are some ideas for the ladies:
What about the kids!? Here are some thoughts:
As you can see, there are some very steep discounts there and it could be worth a browse.
Shipping Costs
I'd recommend making your order up to $60 or more as you will get free shipping to your home! If you spend less than $60, you will have to pay $8… you could pick up another whole outfit for that!?
What do you think of the fashions on American Apparel? Yay or nay?
(Expiry: while stocks last)
P.S. Sign up to their mailing list for a potential extra 15% discount!