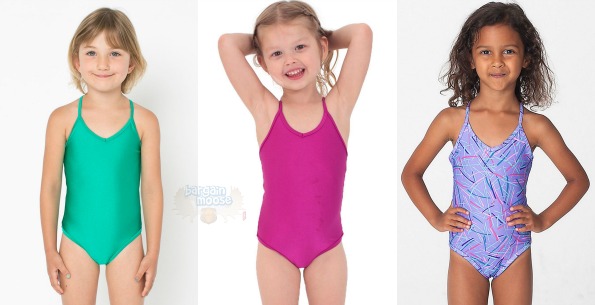 American Apparel sometimes has the greatest deals on clothing basics. Today I found one-piece swimsuits for kids on sale for just $5 each, originally $28. Choose from solid or printed swimwear.
Sizes come in two years, four years, and six years. As swimsuits have a lot of stretch to them, these ages are merely a suggestion and might fit a variety of ages depending on weight and height.
What I like are the bright colours and fun patterns. The printed swimsuit has five patterns to choose from. Black/Silver stars is really disco and bright. There would be no problem with finding your kid in the pool, as they are shiny one. There is not a photo for 1/2 Vertical Rainbow Stripes so you will have to use your imagination on that. Lavender Splatter looks more like silver splatter but it might be purple in person. The Black Rainbow Splatter looks like someone threw paint at a black canvas and some of it hung around for a while. Rhymer Lilac might be a favourite among the girls with the pretty purple and brightly coloured lines as well.
In solid colours, you can choose from Magenta, Serpent, and Fluorescent Green. I was a kid who liked to be 'different' so my choice would have been fluorescent all the way. Yet, I think the serpent green is very nice. It would look much better with pale skin and green eyes.
While some colour/size combinations are sold out already, there is still a very good stock of swimsuits with all sizes available still. At only $5 apiece, you could get a few and it would not hurt your bank account at all. It is always good to have a backup swimsuit anyway. Chlorine has a habit of eating through fabric and if you do not wash your swimsuit out right away and hang it to dry, then you might find your swimsuit going a bit quicker than you hoped. I once found the backside of my swimsuit had lost its elasticity and was going see-through right before I was going in for a swim. Yikes!
Shipping is free on orders of $60 or more. For orders under $60, pay just $8 flat rate. As you are saving $23 per swimsuit, I think it is worth the shipping cost if you are just ordering a few.
(Expiry: unknown)