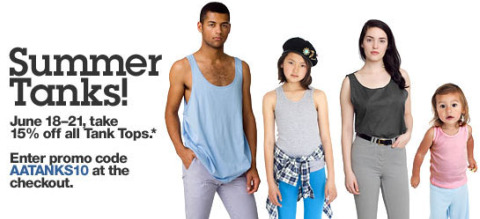 Sorry this one is a bit late, but we still have a day left! American Apparel.ca is offering a coupon code for 15% off all* summer tanks. *Stripe Knit Patterned Tank & Pointelle Knit Patterned Tank not included
This sale involves some tops I wouldn't naturally consider 'tank tops' so I was really surprised they had some stuff I really liked:
... and this was just so cute, and in so many colours too... great for the summer ...
American Apparel is also offering a BOGO offer on their Legalize Gay line of clothing. This offer expires November 30, 2010.
Free shipping on orders over $75. Enjoy the summer, and keep cool!