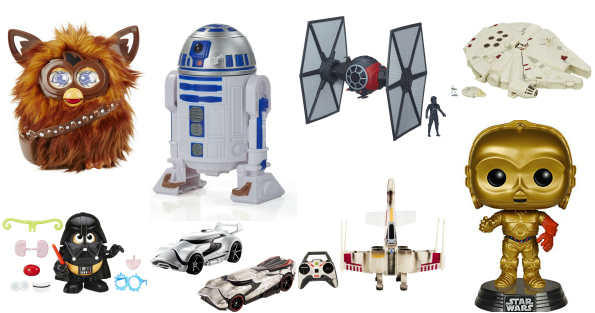 I have a HOT deal for you today my sweet Moosers. In honour of the new Star Wars movie being released this week (woohoo), Amazon Canada is offering up to 71% off Star Wars themed toys. Some of these toy deals certainly will not last long.
The Star Wars The Force Awakens Micro Machines Millennium Falcon Playset is my favourite deal. Originally $39.99, this play set is on sale for just $16. As you might have guessed, the ship converts into a play set and the play set includes only one figure - which has been a disappointment for many reviewers. If you wanted another figure, then you might want to pick up the STAR WARS First Order Stormtrooper Playseton sale from $24.99 down to $15.87.
If you want to score the steepest discount, then that would be on the Hot Wheels Star Wars Escape From Jakku Playseton sale from $69.99 down to $19.99. At 71% off, this set is sure to please the recipient and your budget. This funky set comes with two iconic Star Wars vehicles that you can 'fly' on the play set. It is actually pretty cool.
When I think popular Star Wars toys, I inevitably think about this humble Pop! Movies: Star Wars - C - 3PO that was $17.65 and is now $6.14. When I was writing about Funko Pop Star Wars before, this figure was the one figure already sold out at Best Buy. Evidently, C-3PO has a following.
There are plenty of other cool deals as well. For younger kids, this PLAY-DOH Playskool-Doh Star Wars Endor Forest Battlewas $16.99 and is now just $8. For children who love pretend play, give them this cool Star Wars The Force Awakens Chewbacca Electronic Maskon sale from $34.99 down to $14.
This STAR WARS Galactic Heroes Taun Taun with Han Solo is a great little action figure for younger children as well. Originally $14.99, the action figure is now down to $7.47.
I am an R2-D2 fan myself so my pick of the sale section would be this STAR WARS Bop IT that was $24.99 and is now $15. This looks like a game you play with R2-D2 but there isn't very much information on it. Even so, this looks like a great replica of my favourite little droid.
These deals are for today only so you will want to pounce on them as soon as possible. As per usual, receive free shipping on orders of $25 or more.
(Expiry: 15th December 2015)