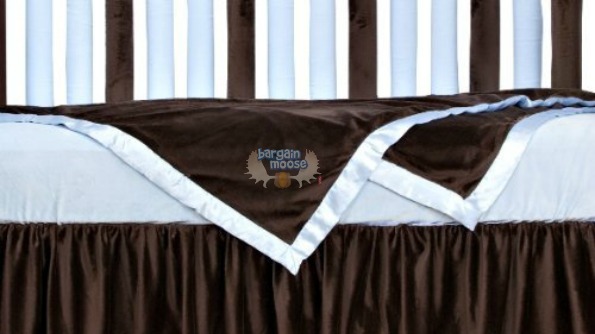 Amazon has up to 50% off various brands of toddler and baby bedding.
There is one thing you can't have enough of when you have little ones (and the answer is not diapers): bedding or blankets. You won't believe how quickly these things get dirty, and even when they aren't dirty, most of them are so cute, you want to use a different one every day. It's like making a fashion statement.
I love Kushies reversible receiving blankets, and the green one with brown dots is soft and the perfect size. Was $13.99, now $8.07. This is a fantastic price!
Skip Hop has some very cute and whimsical designs for their bedding and blankets. This treetop friends 4-piece crib set has a comforter, bumper, crib sheet and crib skirt. If I were to have another baby, I'd choose this gorgeous owl design. If you are not going to use the bumper because of the SIDS risk, what I did with mine is put it around the bottom of the crib so that items didn't get lost under there. I mainly did it because I had a fear of my cats getting locked in the bedroom and then getting into the crib, so the bumper essentially stopped them from hiding under there. Was $265, now $227.70.
If you have a new baby, you may not have heard about The Happiest Baby on the Block books by Harvey Karp. I am fully versed in his methods. Basically, to keep baby happy, they need to be swaddled until they are too strong that they break out, and even then, keep trying. Swaddling looks somewhat straight-jacket-ish, but they will fall right asleep like that. This SwaddleDesigns Dr Karp White Noise CD and swaddle duo blanket is going to be the key to long periods of sleep. I used white noise with all of my boys and believe it helped immensely. Was $44.95, now $27.23.
As always, shipping is free once you've spent $25.
(Expiry: 27th October 2013)