Amazon Canada: The Sopranos Complete Series Was $549 | Now Only $87 (EXPIRED)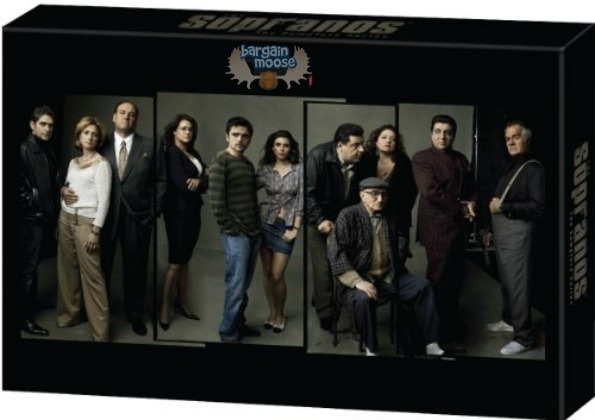 The Sopranos: The Complete Series DVD set is now at Amazon for $86.99 for one day only. Retailing at $549.00 that saves you 84%! This also qualifies for free Super Saver shipping as it's over $25.00.
This is a nice sleek collector's edition pack on DVD, making it easy to watch these intense episodes over and over. This is a great (bloody!) series and if you like a Godfather feel combined with gritty psychological drama, this is the series for you. While the series is a little older now, it's still one that can be watched over again as there are lots of details I caught the second time around that I missed the first time. I feel it may have inspired some of the newer series' out there, such as Breaking Bad and Sons of Anarchy, so if you enjoyed those series' the Sopranos is worth a second look if you haven't seen it.
This collector edition includes some extra features such as 3.5 hours of bonus features not included in other sets, including David Chase's reaction to fan's controversy over the series finale (you'll have to watch if you don't already know, don't expect me to spoil it!) and secrets from the writers room.
Some thoughts from long trusted Bargainmooser Anna:
I've got a similar boxset to this, the complete Sopranos, albeit a slightly different styling and box. Me and my partner watched all the episodes over the course of a month or two… a few episodes a night. I really loved the show, I always enjoyed watching it. But The Sopranos had a different effect on my partner. He found it REALLY depressing. Some nights we'd pop the TV on after dinner, and he'd say that he just wasn't in the mood for The Sopranos and we had to watch something more uplifting instead!
Individual DVD seasons easily go for $15-$30 per season or $90-$180 for the whole set if you're buying them one at a time. If you're thinking Blu-ray sounds better, you'll shell out an extra $100 for the box set as most Blu-ray sets go for over $200 (although Amazon has it in Blu-ray for $173). Some of the competitors have options that are close, but no one can touch Amazon on this deal right now.:
Costco.ca- $113.99 for the DVD boxed set
Walmart- $14.97-$34.97 per season DVD- no box set in DVD available- $209 for the complete series one at a time
Futureshop.ca- $34.99-$38.99 per season DVD, over $209 for the complete series buying one at a time
(Expiry: 11th December 2014)
Bargainmoosers- Do you have a favourite series that you can't watch every night but still love?