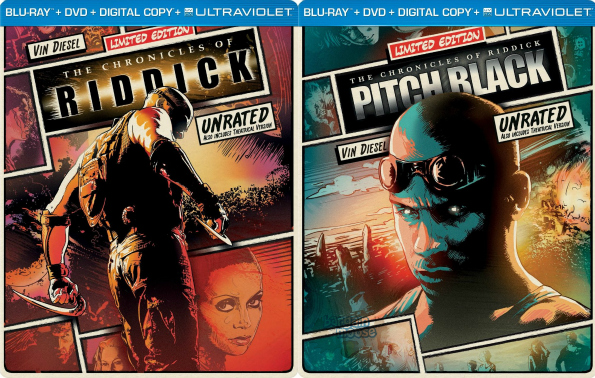 Amazon Canada has two excellent prices on Riddick movies with the beloved Vin Diesel. These are the limited edition Steelbook covers in Blu-Ray. First, Pitch Black [Blu-ray + DVD + Digital Copy + UltraViolet] is on sale from $22.99 down to $4.99. Second, The Chronicles of Riddick [Blu-ray + DVD + Digital Copy + UltraViolet] is on sale from $22.99 down to $4.49.
Couple notes: Chronicles of Riddick is temporarily out of stock, but you can still buy the movie and it will just ship when it comes back into stock. Pitch Black is in stock but is shipping in about one to four weeks. I hope you are not in a rush.
Chronicles of Riddick
I already own the Chronicles of Riddick but I LOVE the steelbook format so much more than regular plastic. Therefore, I am ordering a copy for myself as we speak. I think it is worth $4.50 to replace my current version. The steelbook version has the most incredible cover that reminds me of a dark and gritty comic book. Now, the steelbook is not available anywhere else. Therefore, I just compared this title to other Blu-Ray versions. Amazon Canada sells the regular blu-ray version for $6.75 and Walmart Canada sells the regular version for $7.96. In the USA, I found the Steelbook version - this version - for $14.99 USD.
This is one of my favourite movies and I often watch it over and over again. Some of my favourite parts are when he is down in Crematorium and making friends with the resident four-legged creatures.
Pitch Black
This movie is like a cult favourite. If you like any of the Riddick series, then you are probably a fan of this movie. Oddly enough, I adore The Chronicles of Riddick but I do not like Pitch Black. Pitch Black is too 'horror' for me. However, each to their own. Like above, the steelbook is in short supply in Canada, thus I compared with the regular blu-ray version. Pitch Black costs $14.96 at Walmart Canada and other places. In the USA, the steelbook version costs $14.99 USD at Best Buy.
Just to give you an additional idea as to the value of the Steelbooks, we can look at Amazon.com. In the USA, Amazon.com sells these Blu-Ray steelbooks for $9.49 - $9.89 USD. It is WAY cheaper here.
Shipping is free on $25+.
(Expiry: Unknown)