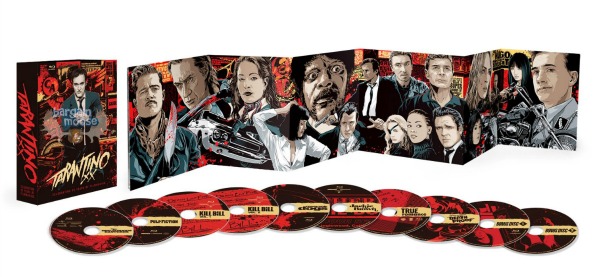 Get the Tarantino XX collection on blu-ray for only $54.99, regularly $105.99.
You can buy this awesome collection until the end of the day today and you are limited to only three per person.
Check out all your gory and mind-bending favourites on blu-ray with this collection.
Starting with Inglourious Basterds with the ever-fierce Brad Pitt in a hair-scalping mission to take down the leaders of the Third Reich. I've never seen this one and to tell you the truth, I'm kind of scared to! But I do love Tarantino and his uncanny way of making something that makes you squeal with disgust so entertaining and intelligent.
Pulp Fiction is a movie that kept me up many a night thinking about all of the craziness in it. If you haven't seen it, it is one not to miss.
Kill Bill volumes 1 and 2 are both highly-acclaimed and must-see movies.
Reservoir Dogs was Tarantino's first explosive feature. I've seen this a few times and the layers of suspense could never to be redone. Totally a must watch movie.
Jackie Brown starring among many others, Samuel L. Jackson will have you on the edge of your seat the entire movie.
Death Proof is another I haven't seen but sounds like another out-of-control film.
True Romance featuring Christian Slater and Patricia Arquette has you falling in love while shielding your eyes.
This set also features two bonus discs with never-before-seen footage and critic discussions. Any film buff will not want to miss out on this entire set plus the bonus discs.
Shipping is free!
Bargainmoosers, which Tarantino film is your favourite?
(Expiry: 3rd June 2013)