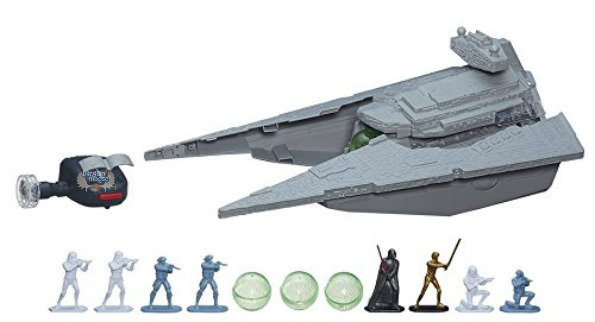 **We blogged this set last year when it was on sale for $30 and it went very fast. It is now another $3 cheaper and could make a fantastic Christmas gift for the Star Wars lover in your family.**
The Star Wars Rebel Command Star Destroyer is now just$29.99 $27.06 at Amazon, originally at $59.99. Complete your collection and imagine you're right in the movie with this model.
While I'm not a Star Wars fanatic (liked it enough to quote, but not enough for cosplay!) there are lots of kids and adults who would love to have this set wrapped up in a box this holiday. This set includes a lot of figurines along with the remote controlled ship including:
Luke Skywalker
Darth Vader
3 Rebel Soldiers
3 Stormtroopers
Star Destroyer
4 Energy Blast Balls
Command Controller
The galaxy and its fate is in your hands. Fight storm troopers, crush the rebellion, and take on the Imperial Army.  Or just drive it around the room imagining you're flying through space and chasing the family dog, I mean Darth Vader. This set will spark great imaginative play.
Often sets just give you a limited amount of pieces but this set seems to have a nice mix to start a battle right in the middle of your living room without a bunch of add on sets. It also includes an exclusive Luke Skywalker figurine to add to your collection so you know you'll have a piece that's new even for the most fanatic fan. The ship has a command control that you can use to send it flying forward into crushing battle, or backward for retreat. It can fire up to all four energy blast balls in a row for a little rapid fire play.
This toy says 5 and up, but let's be real, the big kids will have just as much fun with this set. Set up battle in your living room or display it in your office, most star wars fans, big and small will love this toy. It's a great toy for the kids, Dad, Aunt Sally, and the whole family to play together.
Snag this at Amazon, it also qualifies for free super saver shipping. At Toys R Us you're going to pay $35 for the same set, and at Sears if you didn't check your numbers you'd pay $55. Walmart has it on rollback now as well, but it is only down to $30 and you won't get free shipping.
So Bargainmoosers are you with Luke Skywalker, or do you fight for the Dark Side?
(Expiry: Unknown)