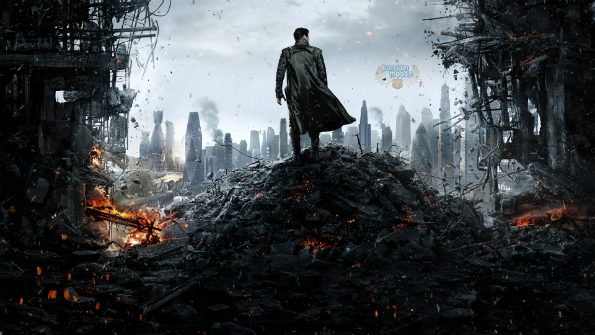 Go into the Darkness... of...  Star Trek? I dunno, this is falling apart. Whatever, it's a great movie for $10! Amazon!
I love Star Trek. The Original, Next Generation and all the way to enterprise. I love the movies. The old ones, the new ones. All of it. My dad bought me a toy Tricorder for Christmas once. And a communicator. That was awesome. As much as I love it all, I haven't seen the latest one.
That's probably because I'm old and instead of buddies I have a kid and a wife. A wife who would probably jump out of a moving car rather than see a Star Trek movie.
With this deal I have no excuse. $10 to get the Blu-Ray, DVD and digital copy? Awesome. So for the folks out there like me who haven't gotten a chance, well, here it is. It's gotten great reviews on Rotten Tomatoes and pretty much everywhere else. I guess it isn't as good as the previous Star Trek but that's kind of expected I guess.
I've heard people say that Benedict Cumberbatch as Khan is worth seeing the movie for all on it's own and I believe it. Talent.
Shipping is not free unless you spend $25 and depends on where you are. The movie isn't prime, either.
(Expires: Unknown)