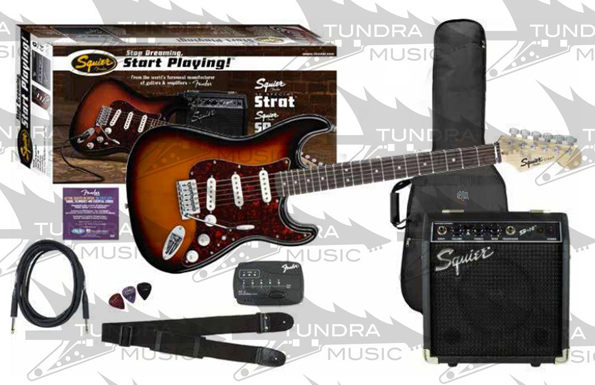 Good morning, my fellow deal hunters! Amazon is continuing their countdown to Black Friday with an interesting deal today. At this time, you can now buy a Squier by Fender SP10 SE Special Guitar with Amplifier for only $299.99! It normally sells for $379.99, so you'll be saving $80 in total! This is the perfect bundle for any guitar aficionados! What's great is that you'll also qualify for free shipping when you order this bundle from Amazon!
(Note: Linking directly to this Lightning Deal isn't working correctly, so click on the link above, and locate the "Squier Electric Guitar & Amp for Only $299..." under "Featured Holiday Deals from Across Amazon.ca". When you click on it, make sure that "Lightning Deal" is clicked on the right side of the listing to get this for $299.99).
This is an awesome bundle that would please many aspiring musicians! Just imagine waking up on Christmas morning and unwrapping this bundle – it would be tough not to smile for the rest of that day!
This Squier by Fender SP10 SE Special Guitar with Amplifier comes with a Squier SE Special electric guitar (with 3 single-coil pickups), a Squier SP-10 amp, stereo headphones, a chromatic tuner, a guitar strap, pick sampler, guitar cable, gig bag, and even an instructional DVD.
I wasn't very successful when I tried to learn how to play the guitar when I was 9, but it certainly was a lot of fun to do! I got my first electric guitar (a Univox, for those who are curious) from one of my dad's friends, and it was really cool to try and play this awesome instrument.
A similar Squier guitar and amp bundle set currently sells for $349.99 on the Fender website. I've included a snippet of a review of this Squier by Fender SP10 SE Special Guitar with Amplifier from a satisfied Music123 customer below:
I surprised him with the Strat pack and the look on (my son's) face was amazing, his mouth literally dropped open! He has been playing every single day and is learning power chords from his dad! Making your son feel like a rockstar? Priceless.
This may not be in stock for very long, so take advantage of this deal while it's still around! You can check out the Black Friday section of our website to see some of the other deals that you can get from Amazon. Happy hunting, my fellow Bargainmoosers!
(Expiry: 7th November 2014)