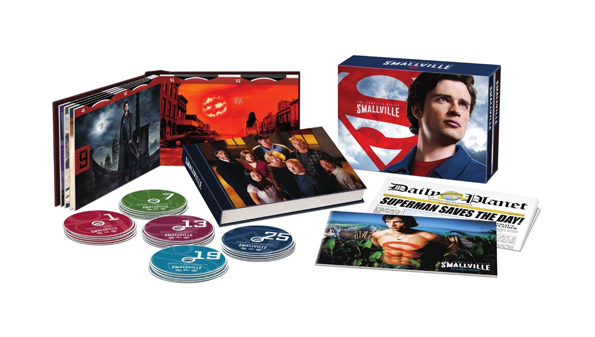 It's a bird! It's a plane! It's... the complete series of Smallville on DVD! Now why would that be in the sky? Anyways, Amazon is having a one-day deal on Smallville: The Complete Series on DVD, and it's a significant one - normally $333, you can now buy this DVD set for $93.99! That's 72% off the retail price! You'll also qualify for free shipping - whooo!
This is one massive DVD collection! When you purchase Smallville: The Complete Series on DVD, you're getting 62(!!) discs in total - that's 10 seasons of this show! It will certainly take a while for you to watch Clark Kent's adventures when you purchase this set, but you will be entertained for a long time! It also comes with over 5 hours of bonus features, an exclusive DC Comics-written Daily Planet newspaper, 2 picture books that can conveniently hold all 62 discs from this set, and even an episode guide filled with production art and behind-the-scenes photos.
This would be an amazing gift for Superman fans. You'll be a real hero if you surprise a fan of the series with this massive Smallville: The Complete Series on DVD set on Christmas morning, that's for sure! I have some friends that really enjoyed this series, and nothing would get in the way of their plans whenever a new episode was on TV. Thankfully, this set lets you watch every single episode quickly and easily - no more having to wait for new episodes every week!
If you were to buy this Smallville: The Complete Series on DVD set at Best Buy today, it would cost you $249.99. It's also on sale for $180 at WalMart. I've included a brief review of this DVD collection from a satisfied Amazon customer below:
Nice box, the book/episode guide makes it easy to find where you left off last time. Great series... to watch over and over again. A classic.
Get this deal before it's gone! Happy hunting, my fellow deal hunters!
(Expiry: 4th November 2014)