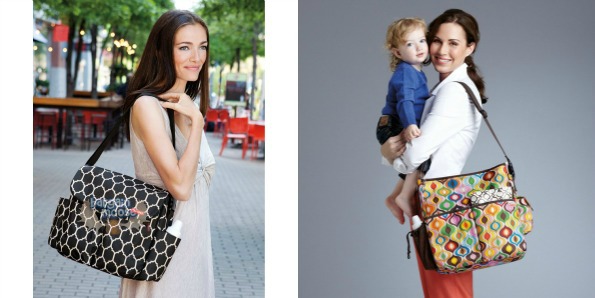 I recently blogged about how great Skip Hop is, especially their bags and lunch bags. Well, their diaper bags are also really awesome and Amazon has them on for a great deal, as low as $50, depending on which bag you'd like.
A diaper bag makes a great baby shower gift, as any new mother probably doesn't want to spend all that money on a bag for herself when the baby needs so much. These are also a great gift because they look great, are durable (will last for years) and aren't cheaply made (although with this sale they are very affordable).
What's unique about the Skip Hop Duo is that it has a fastening system that attaches the bag to the handlebars of any stroller. This is a very useful feature, which I haven't seen in other diaper bags. Shift the weight off your own back and put it onto the stroller. It has magnetic closures, which make it very easy to close each of the eleven pockets. You can literally fit everything of yours and baby's inside this bag, and it even has a spot for sippy cups and bottles so they won't spill. A cushioned shoulder and change pad are also included.
With lots of great styles and patterns, it is easy to find something every Mom would love and it won't be the same as everyone else's bag in the neighbourhood.
The Duo-Adler Wave Multi is funky and unique, because you don't want to be carrying a Winnie the Pooh bag around just because you have a child. Get it for $59.98, regularly $90.
Check out the Duo Deluxe, with the same features as above but 30% larger than the original Skip Hop bag. Get it for $47.30, regularly $70.
The Skip Hop Dash messenger bag is hip and comes in the newest, most stylish pattern in a neutral black and white (or choose the more colourful sequins style). Regularly $77, now only $68.79.
Shipping is free for these items.
(Expiry: Unknown)