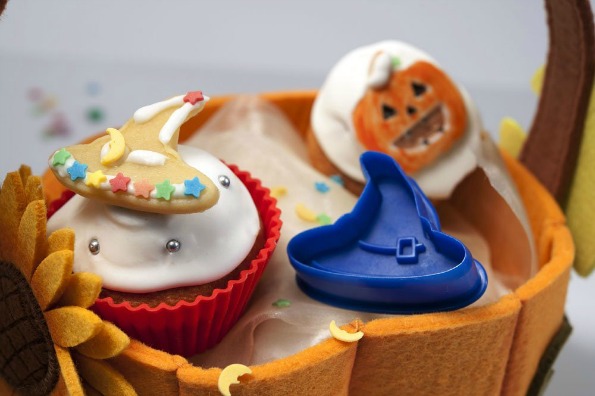 For some people, Halloween means making fun treats. I love to make popcorn balls, but my kids love making and decorating cookies. I found a fabulous deal at Amazon on a set of Silikomart mini cookie cutters with spring ejection. You'll get four Halloween themed cookie cutters, regularly $18.99, now $5.45.
I love that these have the spring ejection because one thing that is very frustrating for a novice baker like me and my children is when the cookies don't come out of the cutter without sticking. This makes it incredibly easy! After you press on the dough, you simply have to lift and press the button to release the cookies.
The four shapes available are a ghost, pumpkin, witch's hat and a haunted house. You can use these cutters with cookie dough, sugar paste and even fondant, which means it is not just for cookies, but also for cake decorations if you so choose.
Another use I have for my cookie cutters is to let the kids use them with their play-doh. I wash them thoroughly after, but Play-doh is fairly edible anyway (sort of).
I wondered if this was the correct or an inflated regular price and while I couldn't exactly find these cookie cutters elsewhere in Canada, I did see that the Silikomart brand can be pricey. In fact, other spring-release cookie cutters from this brand are selling on Amazon for over $20.
If you are interested and are trying to find a way to get your cart up past the $25 minimum for free shipping (because you obviously don't have Prime), the Christmas ones are also on sale. They are also regularly $18.99, on sale for $6.47. They look super cute and I am picking up a pack of Halloween and a pack of Christmas. The Lady, Love and the Summer are also on sale. I wish I had seen the Lady ones before my 40th birthday party because those were exactly what I was looking for!
(Expiry: Unknown)