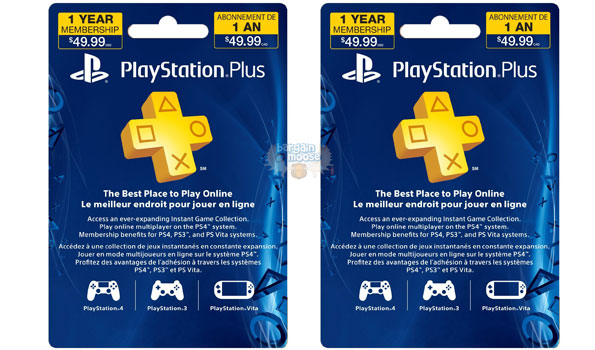 The PlayStation Plus 1-year membership is just $43.66 at Amazon right now. It was originally priced $49.99.
By taking advantage of this deal now, you will be saving 13%. This is actually the lowest price I have seen the PlayStation Plus 1-year membership go for and with the holidays right around the corner, it's definitely a great deal to take advantage of, whether you already have any of the systems.
Breaking down the current $43.60 deal, each month comes down to just $3.63. Every month, new games are made available for a free download and once you download them, they're yours forever! Well, at least until you decide to delete them off your system. :P
Here's a snippet from a review on Amazon's site:
With a PS+ subscription, you get instant access to a bunch of free games*, every month, and steep discounts every week. You don't need it to play online for the PS3 or Vita, but it's worth it just for all the stuff that comes with the subscription. You'll probably find that it pays for itself within a matter of weeks, although your backlog will become an unwieldy mess.
Keep in mind that you need to manually download the free games each month as these won't automatically be added to your system's hard drive.
To give you an idea, here's a list of the games that became free this month (November):
PS4: Binding of Isaac Rebirth & Steamworld Dig
PS Vita: The Hungy Horde & Escape Plan
PS3: Frozen Synapse Prime & Luftrausers
Speaking of which, the 1-year membership can be used on either a PlayStation 4, a PlayStation 4 or a PS Vita. The cool about this is that once you redeem the code on your account, then PS Plus will automatically become available on any other system. This means that if after playing the PS4, you decide you want to play an older game on the PS3, then you can just as easily access the PlayStation Plus network from there as well. In fact, different games for each system are often offered, so it's a great way to play different free games.
Price comparing, I found that the PlayStation Plus 1-year membership is still regularly priced everywhere else, like at Walmart, Best Buy and Future Shop.
Since Amazon usually offers free shipping to orders over $25, you're sure to get your 1-year membership card shipped for free as well.
(Expiry: Unknown)