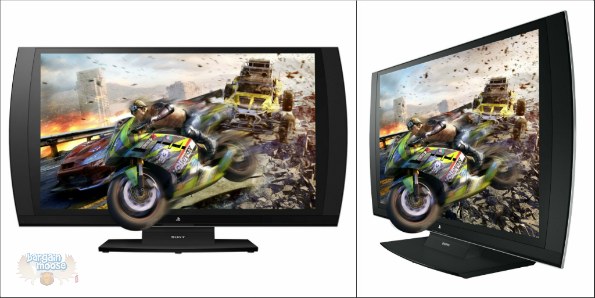 Amazon Canada's weekly deal is a PlayStation 3D Display for $299.99, regularly $499.99... you get 40% off.
This is a 24" LED ultra slim TV. It has quicker refresh rates for smooth game action and includes 3D glasses worth $69.99 and it includes a 3D game as well. We have a PS3 but no 3D games as our TV isn't 3D compatible and I haven't really gotten into 3D yet. However, for a 24" 3D Display this is a pretty awesome price... pretty much $300. You really can't beat that. a perfect accompaniment for your PS3. Great for a games room, den or bedroom.
This display has really good reviews so far.
I purchased this tv because I seen it showcased at E3 2011. I needed to have it. It's affordable, beautiful design, 1080p, 240Hz. It's simply amazing. The 3D works like a charm. Perfect for gamers like me who play better on a smaller display.
The Sony 3D display came fast and on time. I was impressed with how clear and crisp the picture is. I love the 3D and I had Not liked avatar game on ps3 but in 3d I am enjoying the game. I will be buying more 3d games to play on this display. Small but perfect for my room.
Thanks to Crafty for posting this on the community forum.