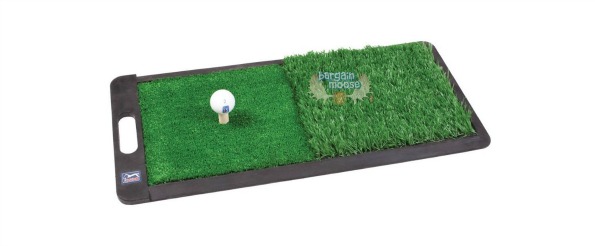 I saw this and instantly thought of my husband who works from home and works a lot and doesn't get out on the links quite enough. This PGA Tour 2 in 1 Dual Turf Mat with handle and rubber tees is perfect for the backyard for when he needs a breather. Now only $29.99, regularly $49.99.
Basically, you can practice your shots from this turf. There is a shorter turf to mimic the fairway and a longer turf to mimic the rough. Improve your shots with practice on either or both turfs. This would be great to take the park if there is a large expanse of field or trees to hit into. Just watch for others.
I know many a Dad who would appreciate a gift like this, especially if they can't get the gift of golf itself. This is also great for younger ones to get some practice.
The mat is 25.5 x 58.5 cm and has a sturdy carry handle. Removable tees in different sizes round out this item.
Shipping is free!
(Expiry: Unknown)