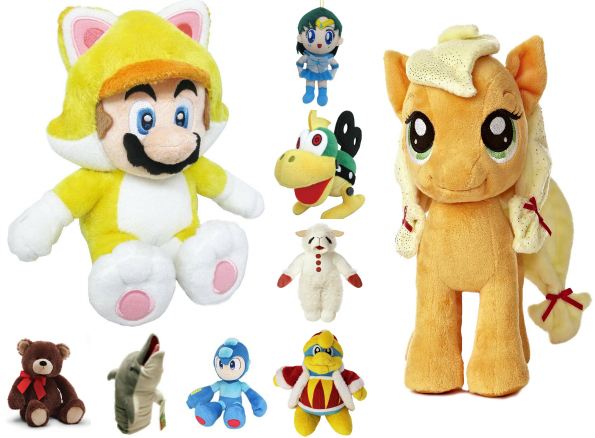 Amazon Canada has a fantastic sale section on plush right now. Buy famous plush brands like Gund or go for awesome characters from some of your favourite games like Super Mario. With over 50% off a large selection of plush - this sale is sure to please. Do not forget; get a free Gund 2015 Annual Collectible Bear with your purchase of $100 or more.
Super Mario
This Sanei Super Mario Bros 9.5-Inch Princess Rosalina Plush is on sale from $29.99 down to $11.07. She is not the most famous Super Mario princess, but Princess Peach needs a friend. Speaking of a certain princess, this Little Buddy Super Mario Bros 8-Inch Peach Plush was $24.99 and is now on sale for $15.47.
I had a heart attack when I saw this Sanei Super Neko Cat Mario Plush 3D World 9-Inch Plush on sale from $29.99 down to $11.31. I think that may be the cutest Mario I have ever seen. If you love cats and you love Super Mario - then pick up this stuffed toy. There are several other Super Mario plush available including this Little Buddy Super Mario Bros 5-Inch Goomba Plush on sale from $14.99 down to $6.99. There are SO MANY amazing Super Mario plush on sale right now that I cannot even start to list them all.
Mega Man
I mentioned Mega Man and you will not be disappointed! This Little Buddy Mega Man All Star Collection 10-Inch Stuffed Plush is on sale from $26.99 down to $12.91. This is an officially licensed Capcom plush figure for the true fan. You can also buy the Great Eastern Mega Man 10: 9-Inch Proto Man Plush on sale from $24.99 to $10.81.
What is life like without a pet and a sidekick? Check out this Sanei Mega Man All Star Collection Series-RP02-9-Inch Rush Dog Plush on sale from $29.99 down to $14.29. There are only a few left in stock.
Gund
Gund is one of my favourite plush brands and Amazon doesn't disappoint. This Gund TD Teddy Bear Brown 20-Inch Plush, Medium was $31.50 and is now $15.60. This is a classic teddy bear complete with red neck ribbon. For something a bit more animated, the Gund Fun Rock-A-Bye Baby Teddy Bear Animated 10-Inch Plush is on sale from $48 down to $23.17. She rocks her baby back and forth while the music is playing.
Others
If your child is in to puppets, then pick up this Archer-Pam's Dolphin Puppet Plush. Originally $37.10, the puppet is on sale for $15. I used to be obsessed with puppets when I was a child and this one is such a great replica of a dolphin.
There is also a huge section of other plush by Aurora, Folkmanis, and more. While I showed off some of the Mega Man and Mario Bro plush, I didn't get a chance to mention that there is a ton of Kirby plush also on sale! Receive free shipping on $25 or more.
(Expiry: Unknown)