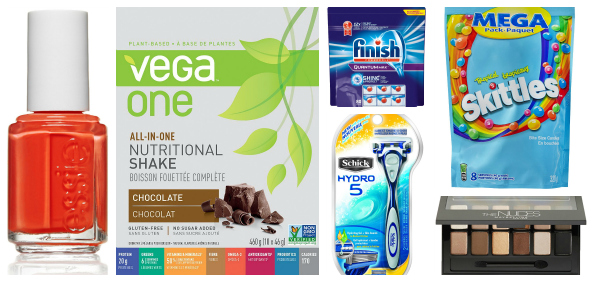 I am STOKED about the brand new feature on Amazon Canada: clip and save with virtual coupons! You can use virtual coupons to save on groceries, beauty, personal care, household items, and more. Then highest coupon I have seen so far is an extra $10 off, but there are a ton of coupons between 50 cents up through $6 or so off individual or case-lot products.
Let us go shopping my darling little Moosers! First and foremost, I wanted to mention the amazing deals on Essie right now. Essie is a sought after nail polish brand with some of the most beautiful colours. Currently, this Essie Nail Color, Reds, She's Pamperedis on sale from $9.99 down to $6.68. After coupon, you will pay $5.68. Even better, this Essie Nail Color, Corals, Meet Me at Sunset is on sale from $9.99 down to $4.91. After coupon code, pay $3.91. I am going to be buying the second nail polish as all Essie nail polishes are DBP, toluene, and formaldehyde free and I love the colour. 
For the big savings, stock up on nutritional shakes from Vega. The following boxes of shakes are on sale from $39.99 down to $29.99. After the additional $10 off coupon, you pay just $19.99.
I price compared these with Vitasave.ca, where they retail for $29.99 each. On Amazon, the added discount for all the coupons is taken off at checkout.
Let us get back to cosmetics. The Maybelline New York The Nudes Eyeshadow Palette 0.34 Ounce is on sale from $16.98 down to $12.98. With the extra $2 off coupon, your eyeshadow palette suddenly becomes $10.98. Likewise, the Maybelline New York Fit Me Matte Plus Poreless Foundation Makeup, Natural Beige, 1 Fluid Ounce is on sale from $10.99 down to $6.96. After the $1 off coupon, expect to pay just $5.96.
One of my favourite deals happens to be on men's razors. The Schick Hydro 5 Razor, Includes 2 Razor Refillsand the Schick Hydro 5 Sensitive Razor, Includes 2 Razor Refillsare both on sale from $11.49 down to $9.98. They also qualify for an extra $3 off, bringing each razor with two refills down to $6.98.
If you own a dishwasher, then you may want to pick up the Finish Dishwasher Detergent Quantum Max Shine and Glass Protect Action, 80 Tablets. Currently priced at $23.44 (same at Walmart), the $6 off coupon brings them down to $17.44. Make sure to use the 'clip coupon and save' button to apply the additional $6 off.

Receive free shipping on orders of $25 or more.
(Expiry: unknown)