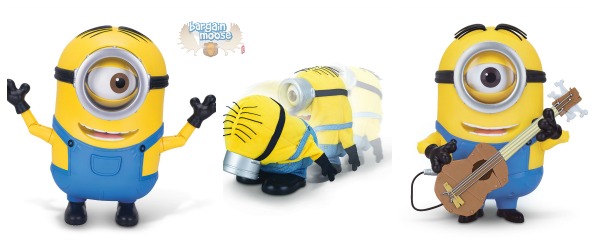 If the Minions craze is going on at your house, I found a few Christmas presents you can stash away to make your kids ultra-happy on Christmas morning. Amazon has four different Stuart dolls that do some wild and crazy things at 40% off and these prices far beat out the other contenders who sell them like Toys R Us and Walmart. They are also all over $25 so they will ship for free too.
Do you want Stuart to dance, play guitar or tumble? He'll do all of these things for you for varying price points! The best deal I found was on the Minions dancing Stuart figure. He will move his eye (just the one ;)) and feet with music or sounds. He will also talk back and he'll respond to your voice. The reviews are all great and I see that you can find videos on YouTube to watch how he works.
Regularly $53.19, it is on sale at Amazon for $27.84. He is also on sale at Toys R Usright now, but for $37.47 from $49.99. Walmart doesn't seem to sell this one.
Tumbling Stuart is quite cute and has the same types of features as the dancing guy, but instead laughs, talks, tumbles and gets back up. He's a lesson for any kid. Regularly $64.99, he is on sale for $39.68. Walmartsells him for $59.97 and Toys R Us sells him for $64.99.
If your kid likes rock n' roll, then that Stuart is for him. With a guitar, he moves it up and down to the music and also can interact with Bob and Kevin. Not as good of a deal as the previous Stuarts, it is still hotter than what the competitors sell him for. Regularly $64.99, it is on sale for $45.68. Toys R Us and Walmart sell it for full price.
Interesting enough, I found another rock and roll type Stuart but this one is called Stuart Interacts with Guitar Figure. It looks quite similar and is regularly $54.99 on sale for $32.02. Toys R Ussells it for $54.99 and Walmartsells it for $49.97.
(Expiry: Unknown)