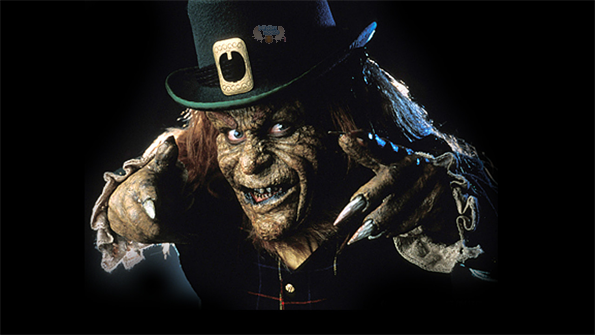 Looking to get into the right mood for Halloween? Well, today's deal at Amazon just might be the spooky solution that you're looking for! Remember the Leprechaun movies? Where the magical little person from Willow (Warwick Davis) played a scary Leprechaun? You can now purchase the Leprechaun: Pot Of Gore Collection DVD Set, which contains 6 Leprechaun movies, for just $12.49 (plus $1.99 shipping). This set normally retails for $46.99, so you're saving 73% on the regular price!
The Leprechaun: Pot Of Gore Collection DVD Set contains all 6 movies in this popular horror series. That's a lot of entertainment for a small price! This deal may not be around for very long, so click on the link above and check out this deal before it's gone!
This would be a very entertaining DVD set to have, especially if you're a horror fan, or want to entertain your friends before Halloween. I remember first hearing about this movie in the early nineties, and while they were pretty silly (I mean, come on - one of the later movie titles is Leprechaun 4: In Space), you can't go wrong with some cheesy horror flicks! I'd love to check out some of these with my girlfriend, especially after having a few glasses of wine! That's a fine night of entertainment right there.
The Leprechaun: Pot Of Gore Collection DVD Set typically costs $37.59 on Shop.ca, and it's currently $29.99 at Future Shop. I've included a brief review of this Leprechaun: Pot Of Gore Collection DVD Set from a satisfied Amazon customer below:
I have been waiting for this to be at a good price and finally, after a while of waiting it paid off. I am very happy to be the owner to them now - all 6 movies! Amazing, thank you :)
I hope you're all enjoying the rest of your Sunday, Bargainmoosers!
(Expiry: Unknown)