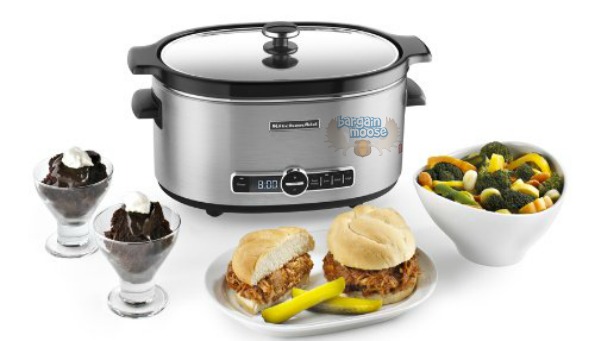 I was originally going to write about this great deal I found at The Bay, until I price compared and found this KitchenAid Architect Slow Cooker at Amazon much cheaper. On now for 50% off, regularly $149.99, now only $79.99. This is the cream of the crop of slow cookers, so it could be a great deal for a Mom who loves her small appliances.
I love KitchenAid and I really love the Architect series appliances. Not only do they look amazing on your countertop, they are pure function.
The 6 QT slow cooker comes in cocoa silver so it won't clash with your kitchen, no matter your colour scheme. It has 24-hour programming so you can set it for whatever time you'd like it start cooking. I find this one of the greatest inventions for the working mom, since what could be worse than working a long day then trying to figure out what to make for dinner. This device lets you stay organized.
With four temperature settings, this powerful slow cooker will cook anything, no matter how slow or fast you may need it. It pre-heats quickly so you can get the party started, just in case you do come home and need something quick. The glass lid has form-fitting edges to seal in moisture and so it reduces the chance of lid drips, which are very annoying. The best part is after you are all done, you can just throw the ceramic pot right into the dishwasher.
You'll also get free super saver shipping on this item.
(Expiry: Unknown)